Christmas Tree Themes 2018!
18th Jul 2018
As soon as the 2017 Christmas season was over, we went right to work with a mission of getting the most beautiful, trendy, unique tree themes we could find for 2018 Christmas! & what we have come up with is sure to blow you away! We have a total of 10 trees ranging from traditional, to vintage, to modern, to elegant, to fun! Each one has a specific color palette to match any personality!
Arctic Woodland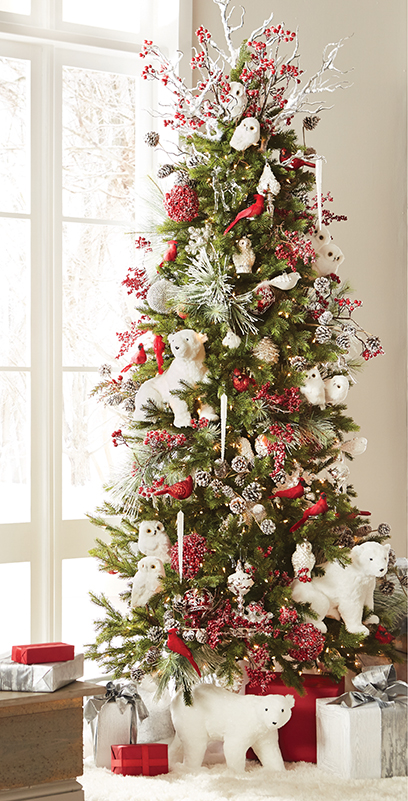 Step into the magic of an outdoor winter wonderland with this Arctic Woodland Christmas tree theme! The color palette for this is majority red and white, with little pops of silver here and there to give it a sparkly, icy feel. To keep a very natural texture but also add a little something extra, we chose to use pick and sprays that feature red berries, pine cones, branches and pine needles! Each one is unique in its own way whether is dusted with snow or sprinkled with glitter! For a few fun touches, we have added in a snow flake spray, a snowball spray, and a white starburst spray! The ribbon used is a lovely stark white ribbon with "Merry Christmas" written out with shiny red sequins! When it comes to ornaments, we still wanted to keep up with the woodland them so we chose things like clip on red birds, stunning snowflakes, silvery icicles, red berry balls, metallic finials with snowflakes, and cloches with lighted winter scenes inside! The tree pictured shows a green tree, but we would recommend using a heavily flocked tree to really take it over the top!
Click here to shop our Arctic Woodland tree theme!
Candy Land
Got a sweet tooth?! US TOO! We've even dedicated an entire Christmas tree to sweets! You know the feeling when you walk into a magical candy store and you see an array of different colors and all of your favorite candies and sweets? We channeled that feeling into this theme!
From classics like rock candy, macaroons, jaw breakers, ribbon candy, lollipops, cupcakes, wrapped candies, ice creams, lifesavers, gumdrops, and more! Put these sweet ornaments on one of our colorful tinsel trees and add some colored lights to really take it over the top! Decorate a garland on your mantle with the purple glitter ribbon and hang some LED battery operated lollipop lights to pull the room together! Your guests will think they just walked into Santa's candy store!
Click here to shop our Candy Land tree theme!

Camp Christmas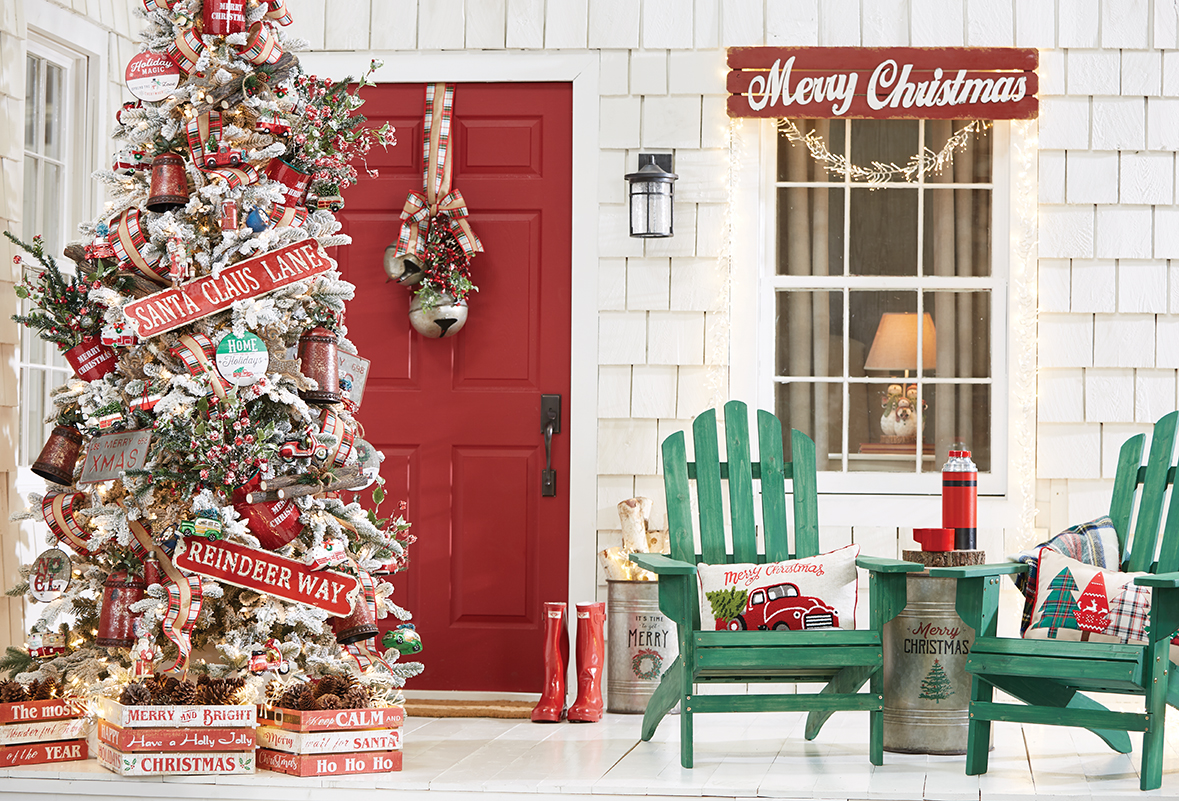 Attention Christmas Campers! Are you ready to hear about this theme?! This is our Camp Christmas tree theme! It features a red, white, and green color palette! With lots of metal and wooden textures, you'll feel like you're in a cabin in the woods! In this one we used very natural picks and sprays like mixed berry sprays, pine cones, cedar and pine branches, cotton textures, and for a lighter touch we have a plaid Santa butt and a jingle bell branch spray! What would camping be without some plaid?! We incorporated plaid with our ribbons, such as a black, white, and red ribbon and also a white and black checked ribbon! For a warm and cozy touch, we have a red and white Nordic sweater printed ribbon! Tie a few bows out of these and pop them in your tree! Before you add the ornaments of course! For this, we kept it simple. From lighted houses, to trucks and campers, lighted lanterns with winter scenes, metal stars, and lovely galvanized metal bells! Putting all of this on a flocked or just a regular green tree is sure to look camp-tastic!
Let us not forget the rest of the room! We have an adorable snowman lamp sure to look perfect of a side table, a metal barn great to put a flameless candle inside, a lighted church or wooden star, Santa in his sleigh, and signs galore!
Click here to shop our Camp Christmas tree theme!

Deck the Halls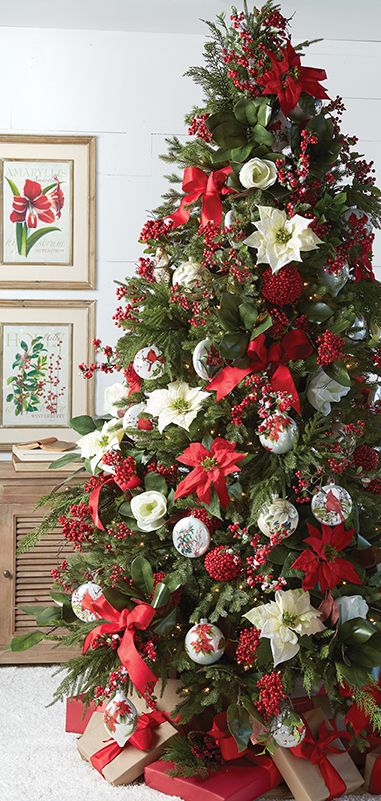 Fa la la la la! La! La! Our Deck The Halls tree is a very simple and elegant theme! It has beautiful rich reds, sparkling golds, and creamy white colors, mixed in with a ton of different greenery textures and flowers! When it comes to ornaments, we have glittering pinecones, gold mercury glass finial shapes, and red birds! We've even added our nativity sets in with this theme!! To add a little OOMPH to the tree, the picks and sprays in here are fluffy cedar, big magnolia leaves, bright red berries, exquisite poinsettias, and magnolia flowers! The gold diamond shape ribbon and velvety off-white ribbon, are sure to tie the tree together! But to bring the whole room together, you need home décor! From traditional nativity sets, to nativity's in a cloche! Festive little elves and carolers ready to sing songs! Bottle brush trees and lighted houses to decorate your mantle! You'll never want to take down this Christmas décor!
Click here to shop our Deck The Halls tree theme!
Grinch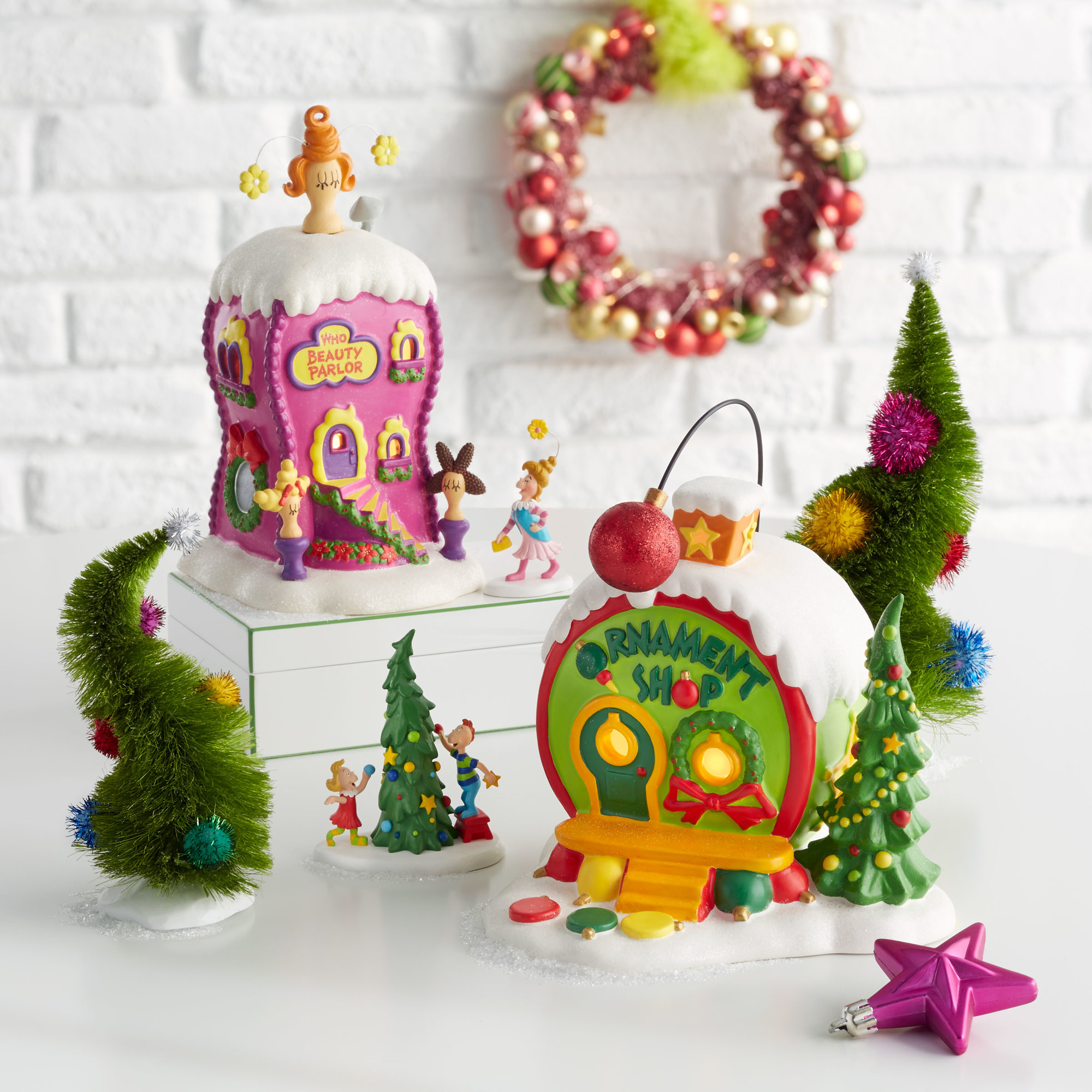 He's a mean one, that Mr. Grinch! But this tree is anything but! Decorate like a Christmas obsessed Who from Whoville by grabbing a lime green tinsel tree and scattering your favorite character all over! We have an array of different Grinch poses and personalities! A dated Grinch in a bottlebrush wreath, a musical Grinch with a sly smile in a chimney, Grinch a on a ladder and him stealing the Who's Christmas tree, and a collection of ornaments with the Dr Seuss story book! Add in some red ball ornaments and a spool or two of bright green ribbon to pull it together!
If you're looking to get a little deeper into the Grinch décor, Department 56 has a spectacular How The Grinch Stole Christmas village set! We have the iconic Mt Crumpit with the Grinch peering out of his creepy cave, a depiction of the Grinch and Cindy Lou Who decorating the town tree, a sleigh full of stolen goods from the unsuspecting Who's homes, the beauty parlor where the Who's go for their wacky hair styles, an ornament shop to get the most perfect kooky ornaments, and figures to match all of the buildings! You'll have everyone singing "Fah who foraze! Dah who doarze! Welcome Christmas, come this way!" just like the Who's!
Click here to shop our Grinch tree theme!

Hot Chocolate Holiday Hot! Hot! Hot! Hot chocolate! Have a sweet as can be holiday with this special tree theme! Featuring a color palette of red, white, and light green, it's sure to sweeten up the room! It is chalk full of gingerbread men, cups of cocoa, recipe books, and peppermint swirl ornaments! To make the tree full, pop in a few picks and sprays! We've picked out an array of different styles, ranging from picks with fluffy marshmallows, gorgeous peppermint swirls, pine with peppermints, and sparkly red and green sprays! To tie the scene together, grab some ribbon! For this theme we have some lovely red and white striped ribbon trimmed with lime green, a satin red and a satin green ribbon each trimmed with red and white stripes! Accent your home with peppermint baker elves, lighted candy cane trees, realistic looking gingerbread houses, and Santa and snowman figures! With a metallic ball garland, marshmallow garland, or satin silk garland, your home will be decorated to absolute perfection!
Click here to shop our Hot Chocolate Holiday tree theme!

Mickey Mouse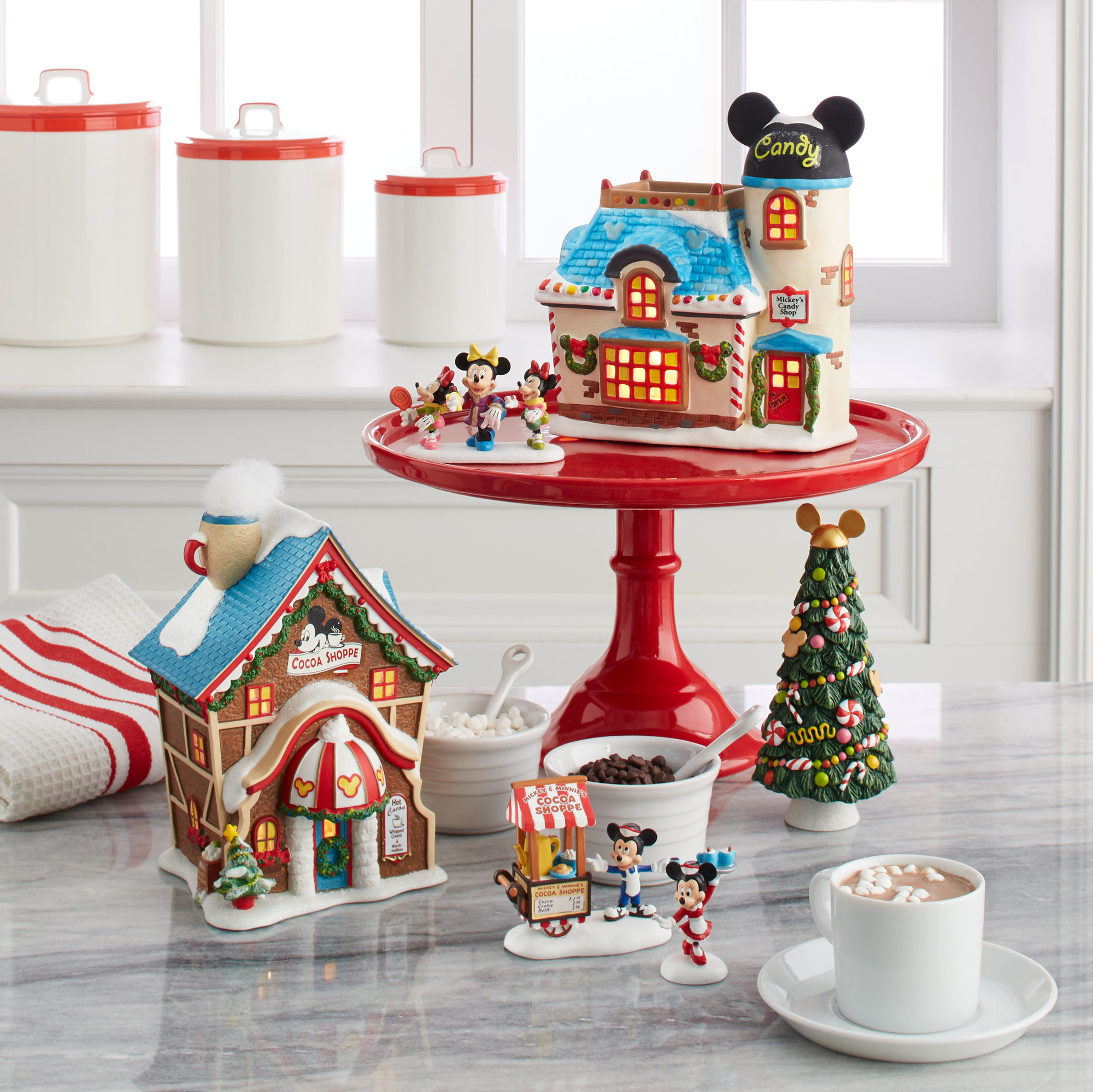 Everyone knows and loves this little cartoon mouse! Mickey Mouse is one of Disney's most popular and beloved characters! This tree theme has green and red ball ornaments, a Mickey and Minnie Mouse light set, a Mickey in Santa clothes tree topper, and lots of fun patterned ribbon!
Aside from the tree, Department 56 has an amazing collection of village pieces! Each one is unique to the next! From the clock shop with gears integrated into the building, to Mickey's Gumball Emporium with a building shaped like a gumball machine, to the Christmas tree lot building with doors wide open serving warm cocoa to their chilly customers, to Mickey's Candy Store fashioned like a cute brick cottage, to the Toy Shop with lego windows and a building block chimney, each piece is sure to be a great addition to your Christmas village! Each building has a figure to match it, but you can always mix and match with your favorite! Set your village up the traditional way on a table or mantle, or get creative the way Disney does by placing the pieces in something unique like a crate from the craft store turned on its side or put a building inside something like a large lantern!
We even secured snow bank platforms into our red curly tinsel tree and anchored the village pieces on top!
Click here to shop our Mickey Mouse tree theme!

Plaid Tidings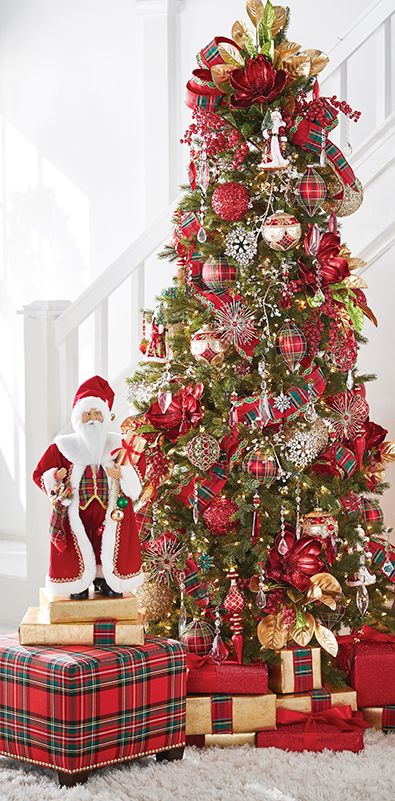 Bring back the traditional colors of Christmas with this absolutely stunning theme! It features the gold, red, and greens that we all know and love. Along with other staple Christmas décor like nutcrackers in fancy jackets, reindeer ready to pull the sleigh and ornate Victorian Santa's dressed to impress! Dripping with hanging jewel ornaments, glittered ball ornaments, and sparkling finials, it's sure to be eye catching! We've thrown in a brilliant black and white striped ribbon that will pop off of the tree! With that ribbon we've paired a sheet music ribbon, and also a bright red ribbon trimmed with holly leaves! Add some texture and fill any bare spots with a pick or spray! For this tree we have bold poinsettias, gold glitter leaf spray, and a sparkling jewel spray! To pull the look together, add in a few happy little helper elf figures, an LED water globe lantern, a shiny cluster ball garland, and you're good to go!
Click here to shop our Plaid Tidings tree theme!

Santa's Diner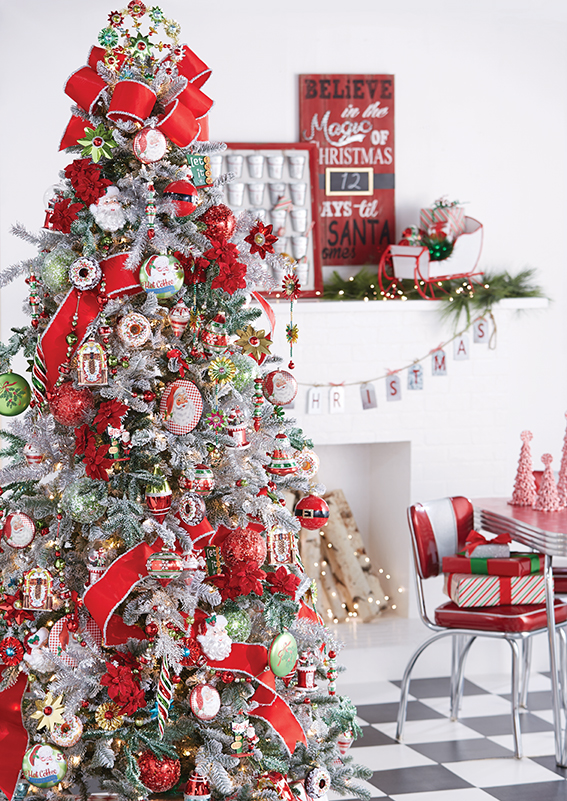 Imagine stepping off of the train at the North Pole, walking down the street, and stumbling on Santa's very own Diner! You can smell the delicious food and hear laughter of jolly customers! You walk up; put your hand on the door handle, and POOF! This is the feeling we hope you guys get when seeing this theme! It has all the magic of traditional vintage with a TWIST! With an array of vintage inspired ornaments such as retro signs, sparkling Saturn ornaments, old fashioned televisions, tin starburst reflectors, a milkshake, and a retro gumball machine with Santa inside! To add lots of sparkle, we have silver, red, lime green, and mixed greenery tinsel sprays! Pop a few poinsettias and mixed greenery with candy canes in to top it off! With ribbon we have bright red trimmed in silver tinsel, a dark green with red pom-pom trim, red velvet with gold tinsel running down the center, and a red felt with green felt Christmas trees dotted the length of the ribbon! You can mix and match these any which way for a stunning tree decoration! Once you're finished with the tree, you have to decorate the rest of the house, right?
Get a water globe lantern (or two), a musical and animated retro television, some festive helper elves, a few lighted shadow boxes, or some traditional bottle brush trees! The elves on this tree are sure to help out as much as they can during the holidays!
Click here to shop our Santa's Diner tree theme!
The New Nostalgia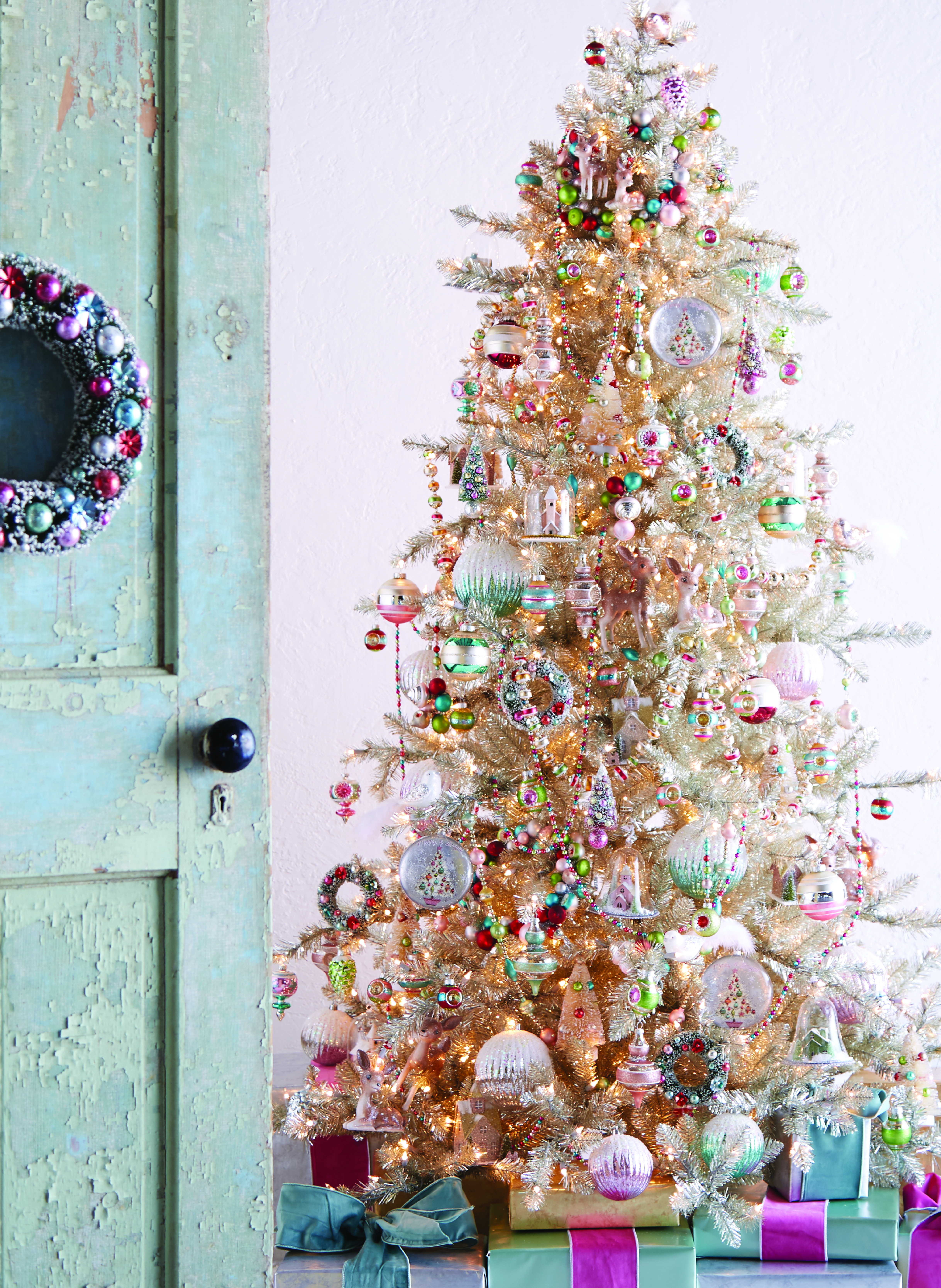 This theme is dripping with golden tones, blushing pinks, and bright colors! It gives a unique spin on traditional vintage décor. Featuring beautiful finials set with silver reflectors, cute-as-can-be baby deer, frosted ball ornaments, glittered houses, and tinsel star ornaments! This theme doesn't have many picks or sprays, we have a glittering golden starburst spray to add a little oomph, but this tree will not fall short of fabulous! With a velvet pink ribbon with a silver backing, a velvet green with gold backing, a red velvet ribbon, and a teal blue satin ribbon, tie a few bows and pop them in the tree for a great look! Once the tree is decorated, you can jump straight into decorating the rest of the home! Add in some sparkling lighted houses, a baby deer inside a cloche with a brilliant winter scene, or a set of bottle brush trees! Line your mantle with a cute and colorful ball garland or a string of lighted bottles with mini Christmas trees inside!
This is a fun and unique and fun way to keep the traditional Christmas while still adding in bright colors and modernizing it!