Christmas Tree Ideas for 2019
Posted by The Jolly Christmas Shop on 3rd Jul 2019
Christmas Tree Ideas for 2019
We have been working hard to curate the most trendy and beautiful Christmas Tree ideas with the most unique touches to inspire you and for you to be able to decorate like a designer! We have put together 10 Christmas tree ideas for 2019. These ideas hit every corner of decorating- from traditional, to vintage, fun and playful, to elegant and natural, and everything in between! Every Christmas tree idea has a specific color palette and we're sure you'll find something to make you say WOW!

Christmas Tree Idea #1 A Classic Christmas: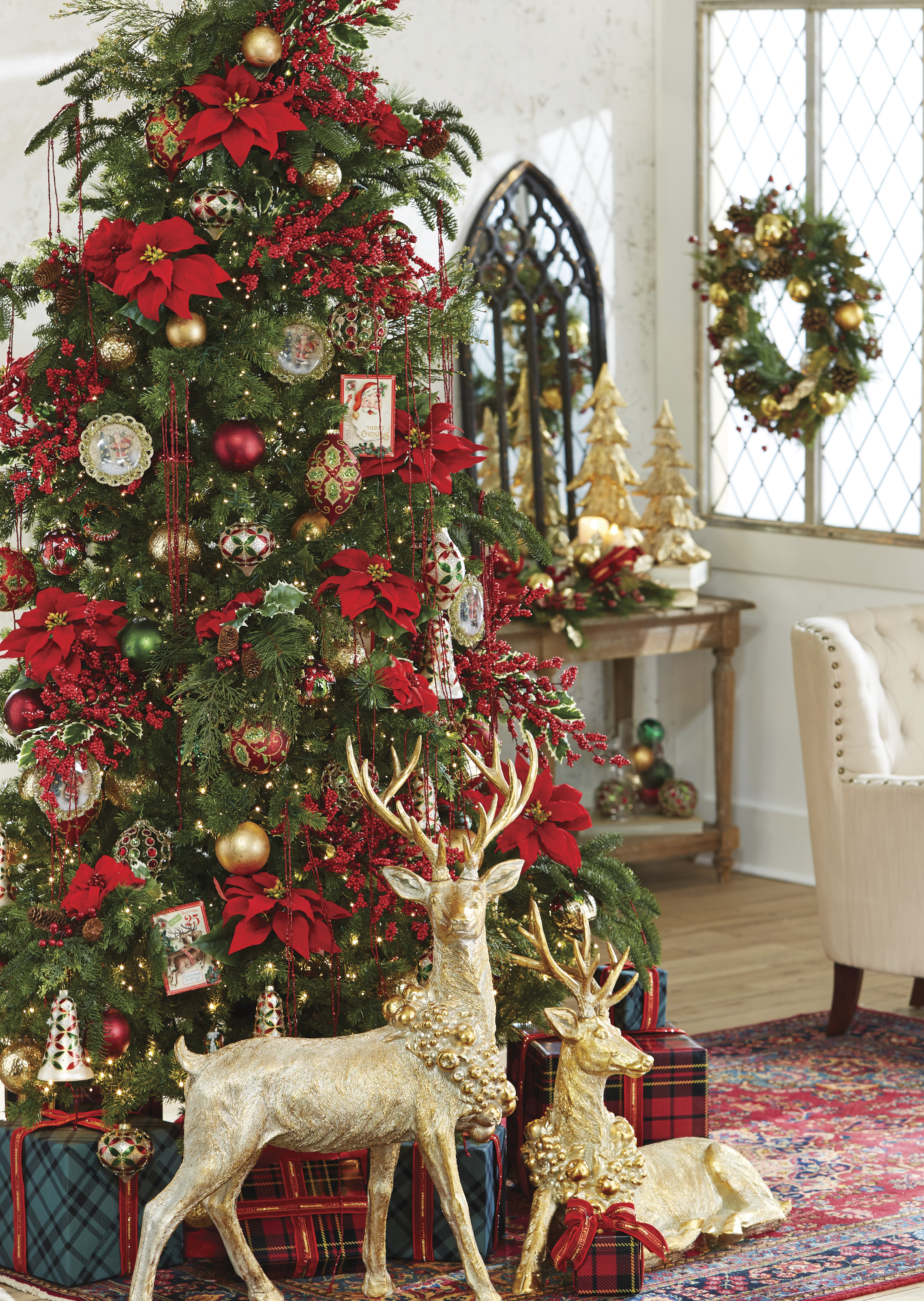 When you think of Christmas décor, what are the first colors that pop into your mind?? Red, green, and gold of course! With hints of plaid tied in, this Christmas tree idea paints a picture perfect Christmas tree! For picks and sprays we've used bright red glittering berries to give dimension and large red poinsettias, because no traditional Christmas tree is complete without poinsettias! To add in a little spice, even a large metallic red magnolia flower pick is added for an extra POP! We modernized this tree a little by using a thin red beaded garland that drapes across the outer edges of the tree and almost drips down the length of your tree for a show stopping touch! You can never have too much red on a traditional tree, so we chose to use a large crushed red velvet ribbon for bows and decorating the length of your Christmas tree! Now, when it came to ornaments we have a few glass ball ornaments in an array of colors with varying textures and some adorable elves and precious Santa faces! You didn't think we forgot about your mantle, did you?? We've snagged the most adorable Santa figures and dancing elves, sing songy standing carolers, shining lamp posts, Christmas countdowns, lanterns and lamps, beautiful angels, and MORE! Wreaths are a staple too! Go retro traditional with a wooden diecut wreath inspired from vintage Christmas cards, or a little more natural with a bright and colorful pomander wreath! Top off your tree with a fabulous plaid Christmas tree collar to hide what's underneath and make your tree look pristine! With two different Christmas card holders, you can proudly show off your cards and WOW your guests this holiday season!
Click HERE to shop A Classic Christmas!



Christmas Tree Idea #2 All Is Brite: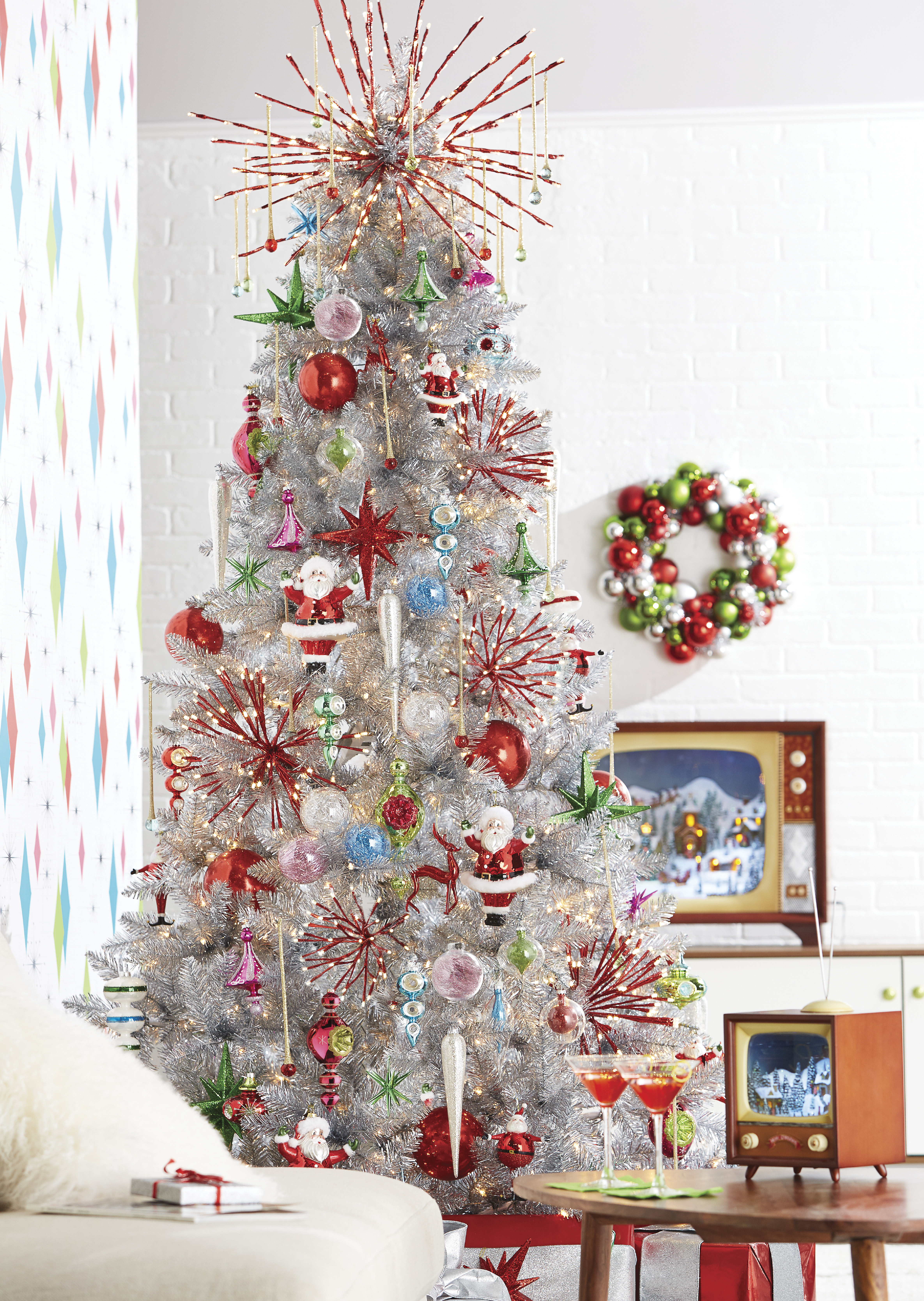 All is Brite is all is RIGHT! This Christmas Tree idea puts a new and fun spin on a classic vintage Christmas! The color palette in this tree idea is silver, red, dark green, lime green, dark teal blue, and magenta! Instead of using picks and sprays like we normally do, we chose to use bright LED lighted starbursts! Wrapped in silver foil, the branches will blend in seamlessly to a silver tree or stand out in a regular green tree! The lights have different functions and change colors, so they're sure to be a show stopping addition! If you don't want lights, but like the look of starburst, we have red and silver retro metallic starbursts that will look just as beautiful! Christmas ornaments are the best part of any Christmas tree, we've chosen retro winking Santa faces, glittered starburst ornaments, sweet (maybe mischievous) elves, striped ball ornaments, finials with awesome retro designs, tinsel filled ornaments, glitter drop ornaments, retro chenille snowmen and much MORE! A green and gold double sided ribbon or a red crushed velvet ribbon is what we've chosen to accent this lovely tree! The green and gold will reflect lights wonderfully against a silver or green tree, while the red will give an amazing contrast! Don't forget about the rest of your home! Accent your couch with an adorable Mistletoe Kisses pillow, drape your mantle with a flocked C7 garland, hang our tinsel ball ornament wreath on your door or above the mantle, line your tables with mini glittered Christmas trees, and bring some life into your home with lighted musical animated televisions! Finish the look off with a bright red Christmas tree collar to hide what's going in underneath your tree! This look takes classic vintage and tosses it into a modern but still true-retro vibe!
Click HERE to shop All Is Brite!

Christmas Tree Theme # 3 Donut Open Til Christmas: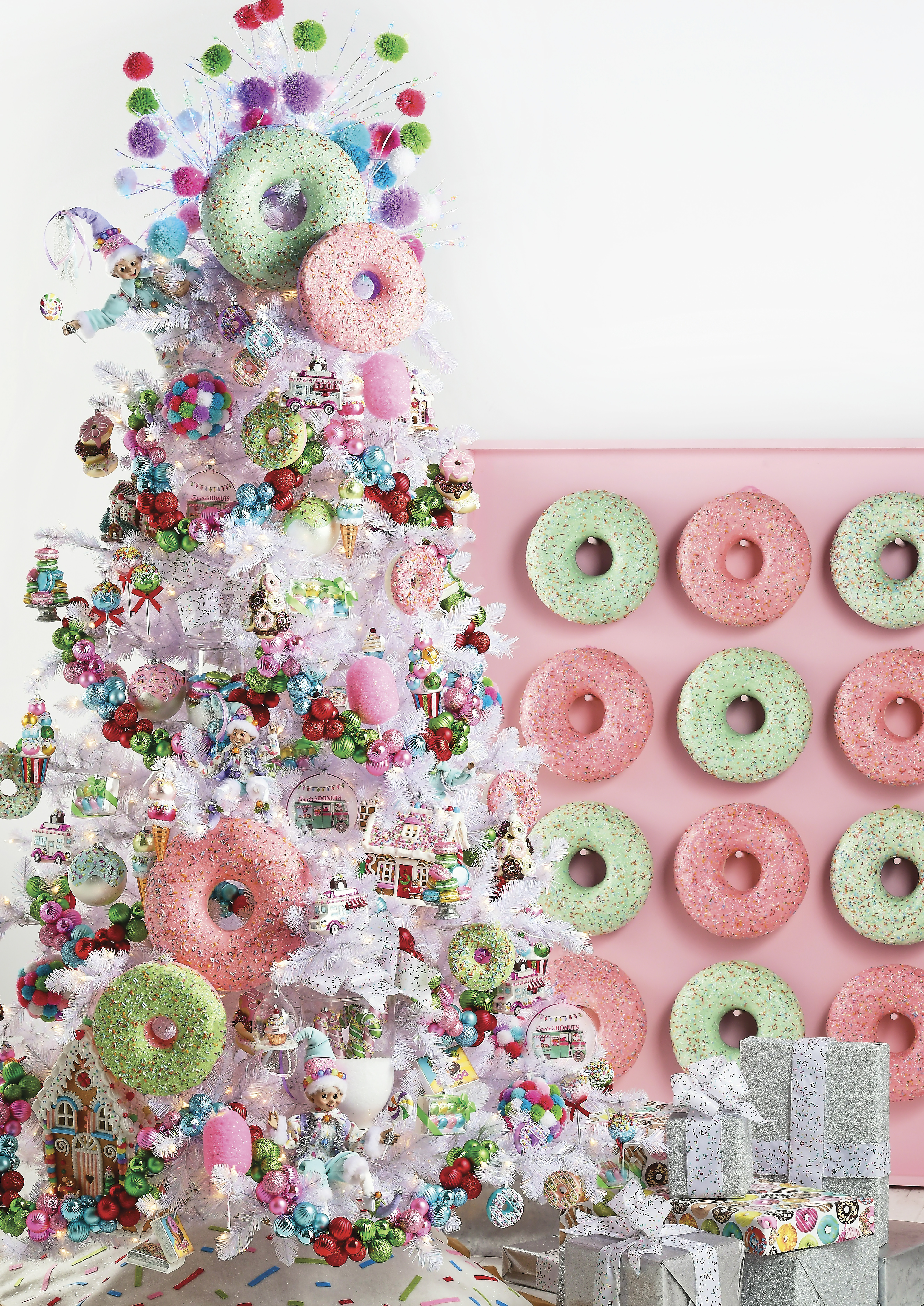 Satisfy your sweet tooth with this sweet as can be Christmas Tree idea! The color palette in this Christmas tree is beautiful pastels in almost every color! We started with a brilliant white flocked Christmas tree, and then added fun whimsical picks like a yarn pom pom spray with different colored pom poms, a candy pick with rainbow candies, giant swirling lollipops tied off with a bow, and we even used a white wire LED lighted multi-color starburst for an added effect! This theme is not short on ornaments! From almost any candy you can think of, like puffy cotton candy, delicious lollipops, bakery Santa's, decadent donuts, chewy brownies, and cookies galore, to bright colored macaroons, ice cream sundaes, gummies, sweet cupcakes, and more! Even ball ornaments filled with sparkly glitter or tinsel, and beaded finials that shine so bright! Trim your tree in rainbow candy garlands and pop in a few bolts of glittered lavender ribbon for a great look! Use the beautiful sparkling lavender ribbon for your topper or become queen of candy land with the amazing Sweet Cake Christmas tree topper! Let's not forget about the rest of the house! Line your mantle with lighted gingerbread houses decorated to a T, donut Christmas trees dripping with icing, tall nutcracker soldiers decked out in candy suits, or top a table with a dapper candy Santa Claus! Instead of a tree skirt, we used our lovely bright red Christmas Tree Collar to wrap around the base of the tree for a clean and finished look! This Christmas Tree idea is good enough to eat and is sure to sweeten up everyone's Holiday season!
Click HERE to shop Donut Open Til Christmas!

Christmas Tree Idea #4 French Bakery: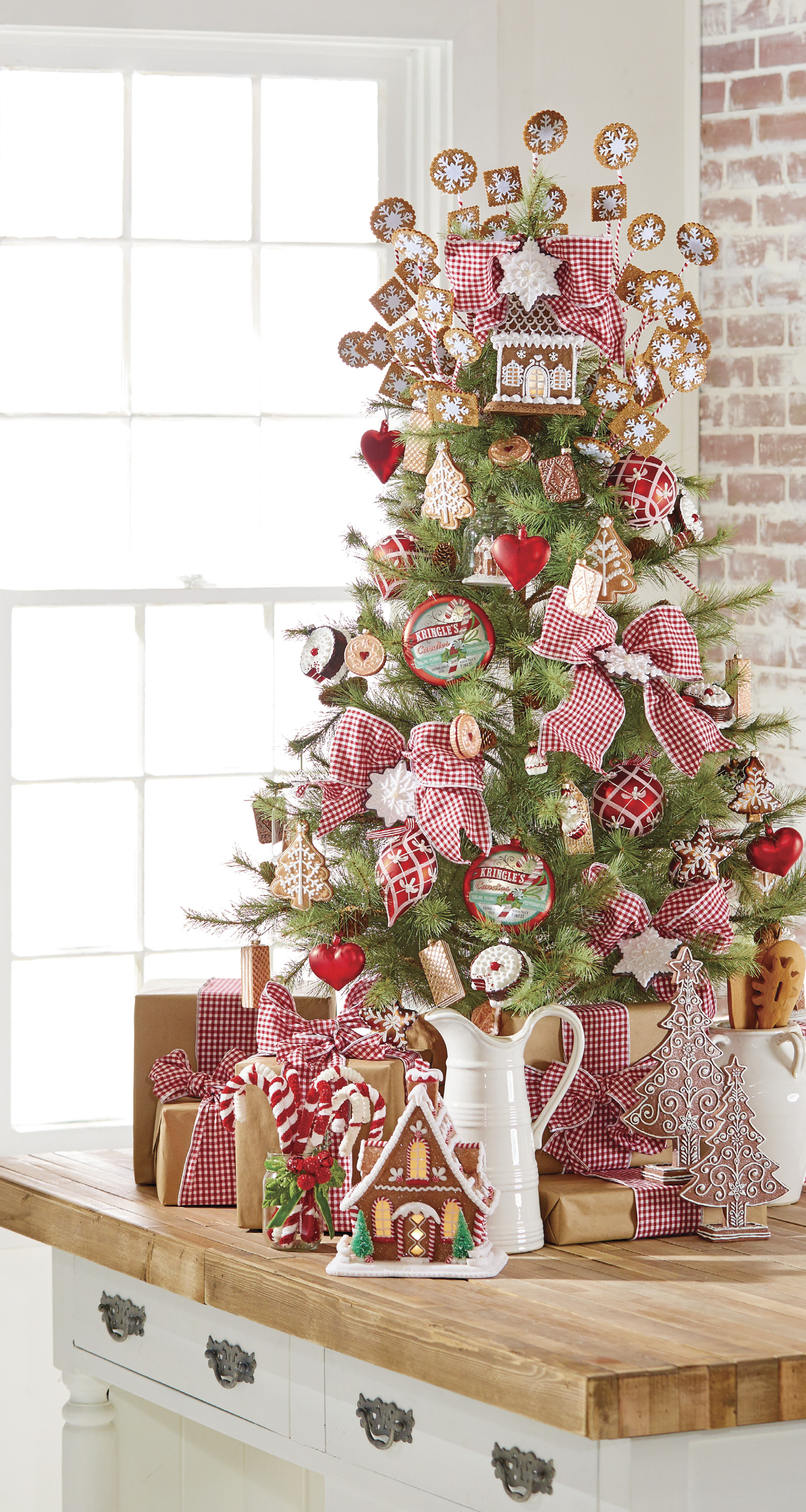 Take a walk through an old cobblestone pathway down the streets of somewhere far away to a sweet smelling mom and pop owned bakery. With Freshly baked gingerbread cookies and cakes, and a pleasant atmosphere you'll never forget. Where everything is light and airy and perfect! Now turn that into a Christmas tree, VIOLA! Our French Bakery Christmas idea for 2019! Without a doubt a stunning tree, it's an anything but basic, beautiful color palette featuring hints of jute and burlap, red, white, fresh baked cookie brown, and light teal blue with a rustic edge! Pop in some swirling red and white lollipops, a marshmallow and gingerbread cookie spray, red and white poinsettia picks, and for a natural touch we chose white berries and a eucalyptus spray with tiny red berries! The textures in this tree are very natural elements, such as burlap, wood, and metal! With every shaped cookie imaginable, the ornaments in this tree are spectacular! Featuring stunning teal blue milk glass finials, red pearl accented ball ornaments tied up with striped bows, a bakery Santa, peppermint top hats, a mixer ornament, dainty mice ready to help around the kitchen, candy molds, candy canes and more! Tie a few little bows to tuck into the tree using the tan ribbon accented with checked buttons, a chambray ribbon accented with a striped edge, or the stunning red and white checked ribbon! These ribbons complement each other so well, you could even use two of them and tuck them into your tree in a cascading fashion! Fill the adorable red and white sleigh with greenery and elves or use some glass jars filled with gingerbread ornaments for a spectacular center piece on your table, line the vintage candy mold figures along your mantle with a cute sign or a striped flameless candle in between, turn your kitchen into Mrs. Claus' Bake Shop with our darling metal sign, or make an amazing center piece with a few teal blue glass Christmas trees and an LED lighted gingerbread house tucked in between! This Christmas tree idea would be great to use on a smaller Christmas tree and decorate your kitchen, but will also be adorable for a full sized tree! You could even use a flocked tree for the look for a powder sugar dusted Christmas!
Click HERE to shop French Bakery!

Christmas Tree Idea # 5 Gingerbread: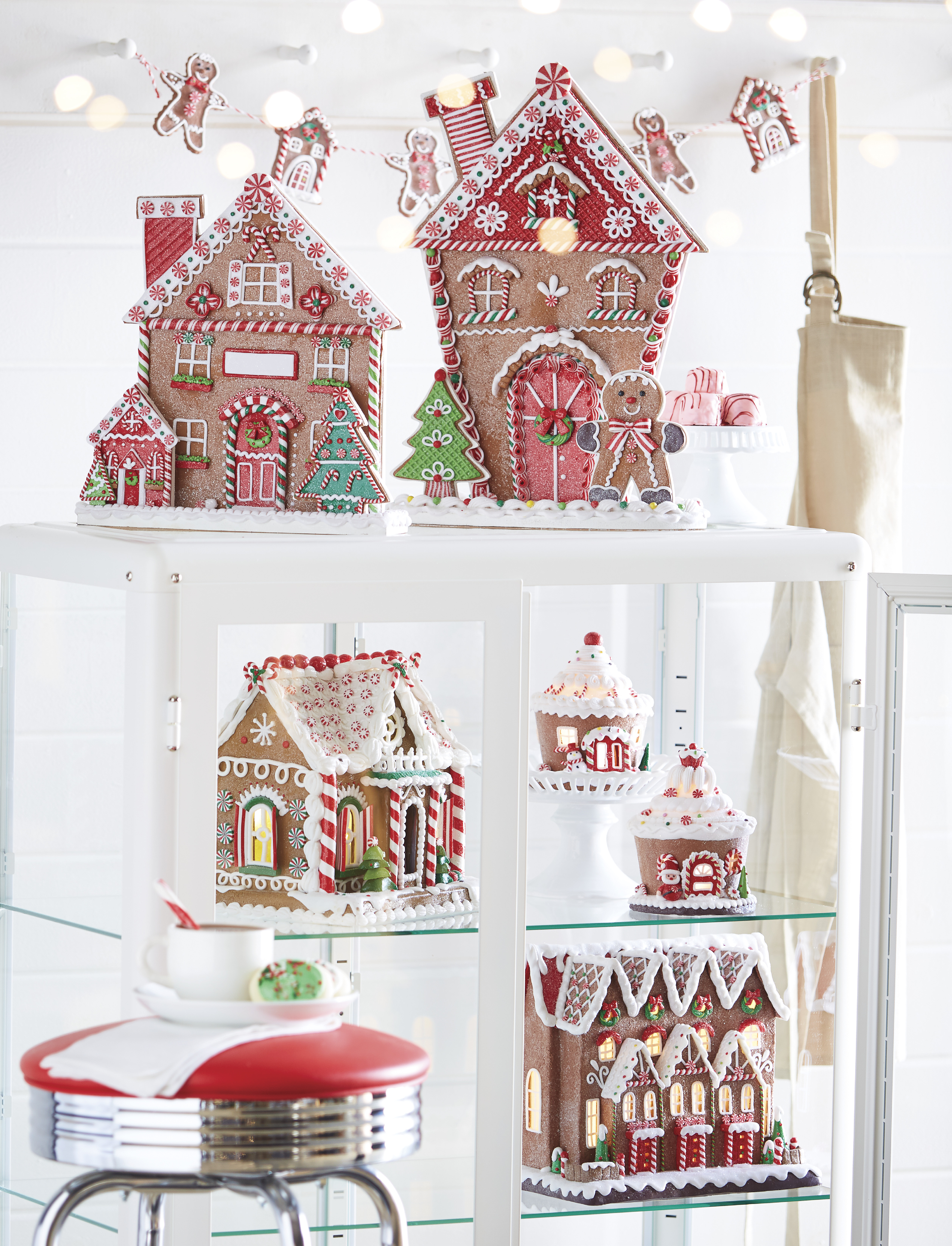 Gingerbread cookies are fun to decorate, delicious to eat, and beautiful to look at! So we made a Christmas tree for all gingerbread everything! With this Christmas tree idea, decorate your tree with gingerbread cookie ornaments shaped into snowflakes, Santas, snowmen, and Christmas trees! Everyone knows hot chocolate and gingerbread cookies go hand in hand, there's sure to be a cup of cocoa to make you feel all warm and fuzzy! Line your mantle or table top with gingerbread houses, campers, town houses, and trains decorated wonderfully with icing, gumdrops, candies, and more! Claydough Christmas tree figures made of peppermints and cookies decorated with green icing are perfect to place among the houses on your mantle or used down the center of your table! There's even a gingerbread house stocking hanger so your mantle is easily decorated! Some sweet little helper elves are dressed in tan and red with cookie cutters and a cookie in hand! Santa even left behind his burlap goodie bag with a fabulously decorated tree, gift boxes wrapped in craft paper, and a few sweet treats sitting atop a bed of greenery! No matter what, this gingerbread tree has got the perfect treat for you!
Click HERE to shop Gingerbread!

Christmas Tree Idea #6 Joyeux Noel: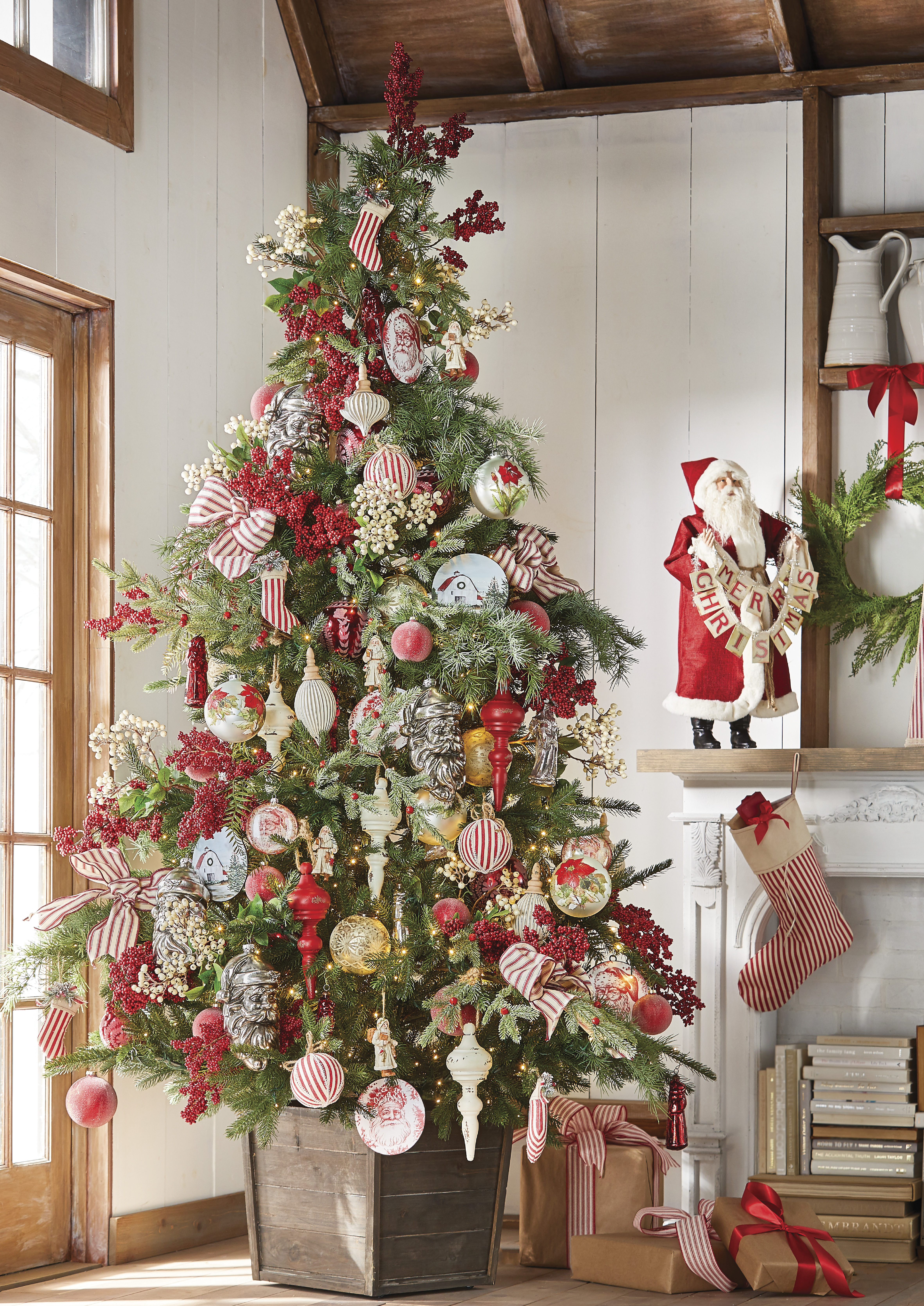 Joyeux Noel is the ultimate farm house Christmas Tree idea for 2019! The color palette is mostly ivory and red stripes, but it has hints of tan with rustic natural textures like wood, metal, felt, and glass! We have wooden ivory church ornaments tied up from red and tan striped bows, ball ornaments and Santa ornaments made from red mercury glass, also a silver Santa figure and a large silver Santa face that looks like antique metal! Pop in a few natural elements like a white berry pick or a green eucalyptus spray with tiny red berries, and a soft ivory pom pom ball garland that's sure to look precious twisted through your Christmas tree or draped along your mantle! Add a wonderful little display of houses along a table or the mantle and light them up by adding a Christmas light inside! Some little happy woodland elves and a burlap bag left behind by Santa is sure to pull together the look!
Click HERE to shop Joyeux Noel!

Christmas Tree Idea # 7 Not A Creature Was Stirring: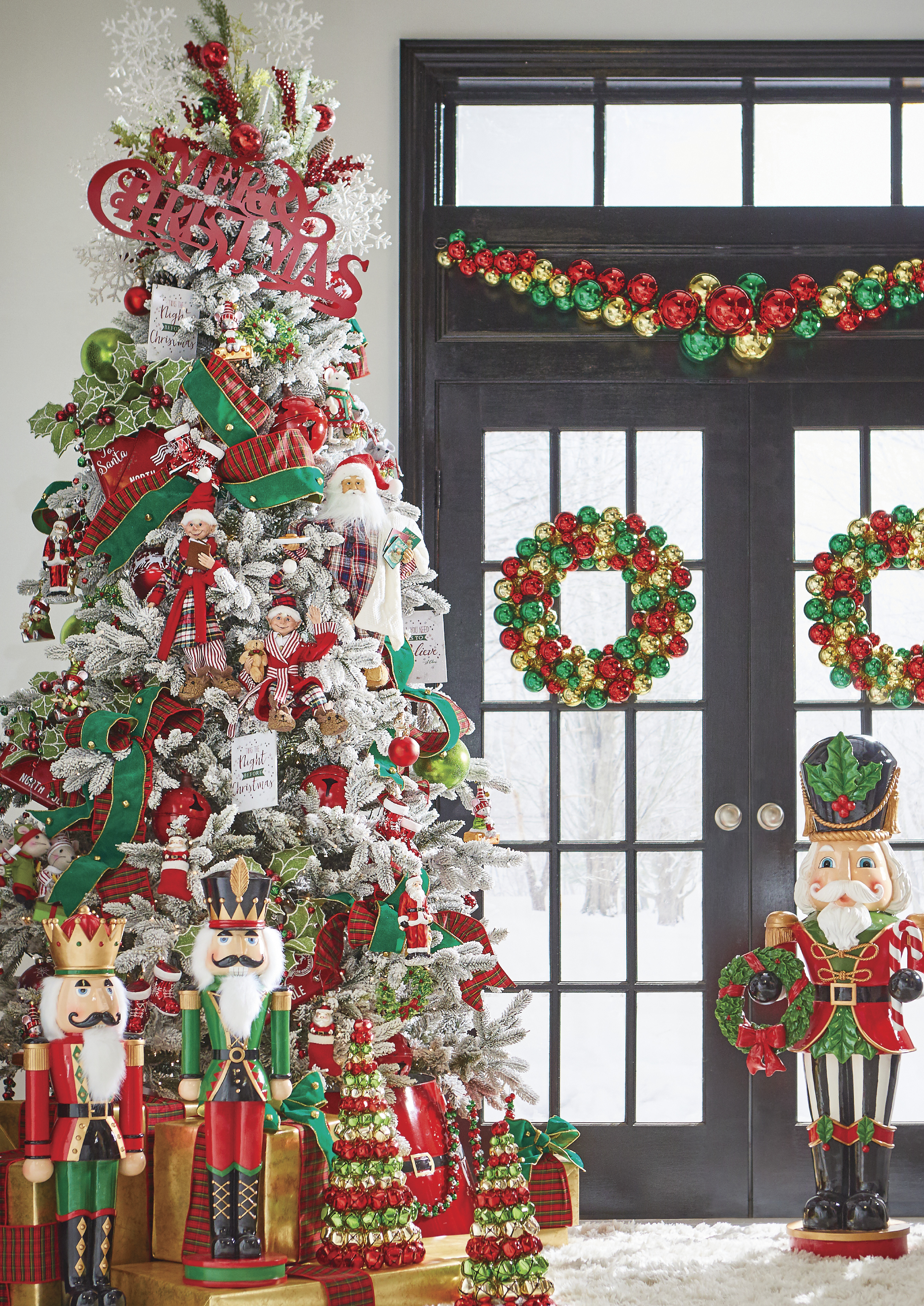 Not even a mouse! You better get into bed before Santa visits your house! Take everything you know and love about Christmas, bundle it up, and you'll get this adorable and fun Christmas tree! Bursting with bright red and green, gold, black, and snowy white, this theme is packed full of fun! We chose fun picks and sprays like glittered snowflakes, tinsel ball sprays, fabric holly leaves, and even a elf butt! The ribbon we chose is a red and green velvet dotted with gold jingle bells and trimmed with gold thread! To really bring it to life, the ornaments featured are cups of hot cocoa, black and white faceted ball ornaments, fabric nutcracker hats, Santa face ornaments, cute little critter ornaments, and stunning red and green ball ornaments! Add in a large metallic ball garland to your tree for a spectacular look! Use our multi color jingle bell garland or the felt reindeer and sleigh garland to drape along your mantle! You can make your mantle pop with an array of different spinning water globes we have, elf figures and Santa dressed in their pajamas, glittered presents, lighted storefront buildings, and gingerbread house stocking hangers!! All in all, this Christmas tree idea is great if you want to add some liveliness and fun to your home this holiday season!
Click HERE to shop Not A Creature Was Stirring!

Christmas Tree Idea #8 Reindeer Games: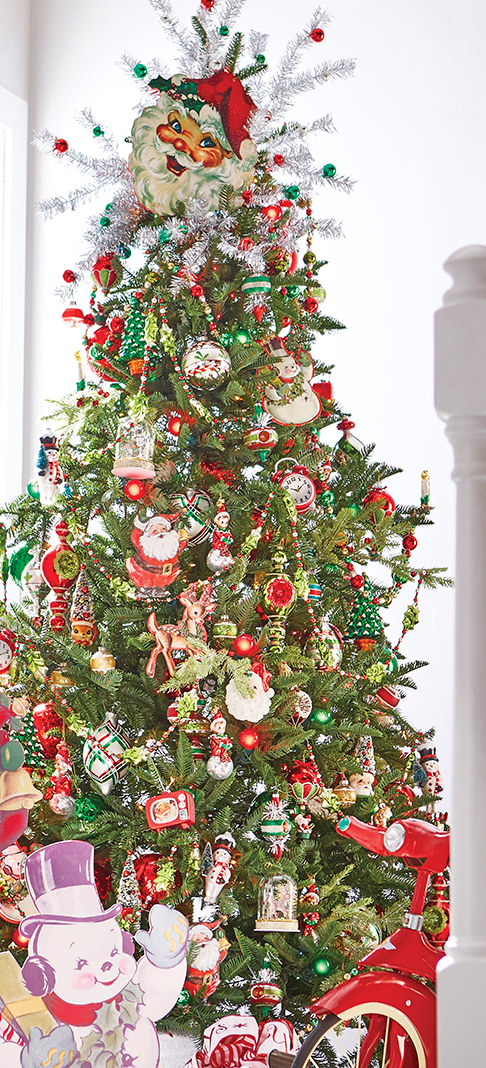 Get all of the nostalgic Christmas vibes from this Reindeer Games Christmas tree! The color palette is red, green, and silver! Fun textured picks and sprays like a silver tinsel spray dotted with colorful ball ornaments, a swirling red and white pick, full snowy holly berry spray, a red and green tinsel ball spray, felt holly leaves and berry spray, pretty poinsettias, and a cute elf butt! This Christmas tree idea isn't lacking in the ornament department! It features tons of different Santa faces, cute as can be retro reindeers, fluffy snowmen, clip on retro candles, hot cocoa cups, gingerbread cookies, and more! Red glittered or red velvet ribbon paired with red and green glittered striped ribbon is sure to look amazing! Overlap two ribbons and tie a large bow for a stunning tree topper!! Line your mantle with metallic green and red ball garland, red and green tinsel ball garland, red and silver jingle bell garland, or a dainty tinsel garland! We even have an adorable garland made from elf clothes that would be darling along your mantle! Don't forget about the TOP of your mantle! From signs with Santa's sweet smiling face, adorable standing reindeers, glittered decorative presents, shimmering water globes, Christmas characters in adorable cloches, over the top decorated gingerbread houses, mini Christmas trees coated in tinsel and glitter, a mailbox that delivers letters directly to Santa, and much more! Finish off your tree with a bright red Christmas tree collar or the stunning candyland inspired tree skirt!
Click HERE to shop Reindeer Games!

Christmas Tree Idea #9 Season's Greetings: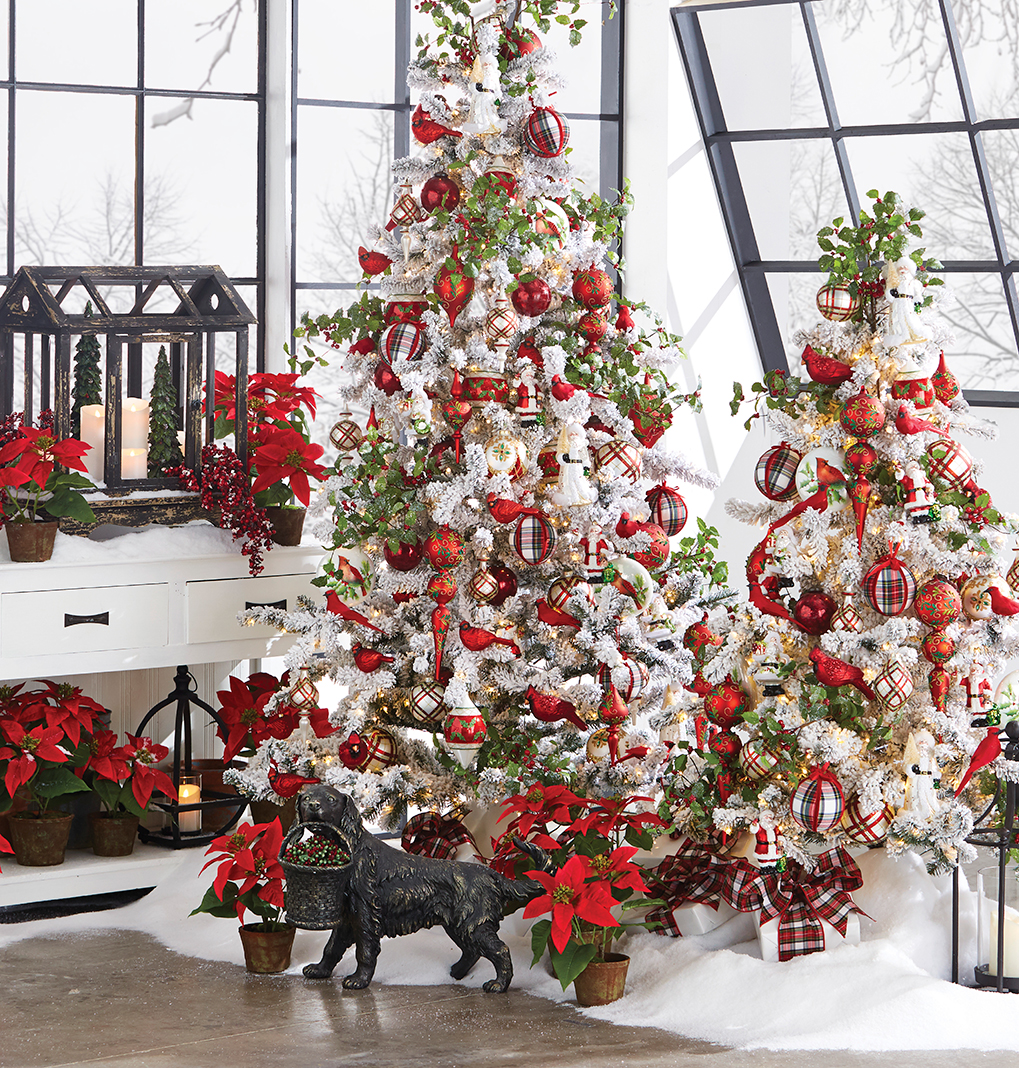 This Christmas tree idea is inspired by the heavy blanket of snow blowing in every winter and totally transforming the way everything looks into a winter wonderland! We started out with a heavily flocked Christmas tree and added in some natural elements like a pine cone spray, snowflake and snowball sprays, pine, holly, and cedar sprays, and a few red berry sprays! Simple red and white ribbons were the way to go with this tree idea! We have a red ribbon with dainty white leaves, a solid red velvet ribbon, and a stark white ribbon with red embroidery and holly berries! To continue with the natural feel, the ornaments we chose are sparkling icicles, ornate ball ornaments, clip on feathered cardinals, shimmering snowflakes, and fun shaped red finials! With birch or red flameless candles, shimmering water lanterns, snow white woodland animals, adorable snowmen, and brilliant snow covered houses to place on your mantle, this theme is sure to be a favorite! Finish off your tree with a lovely velvet tree skirt or a red Christmas tree collar! Bring the outdoors IN this holiday season!
Click HERE to shop Season's Greetings!

Christmas Tree Idea #10 Tis The Season: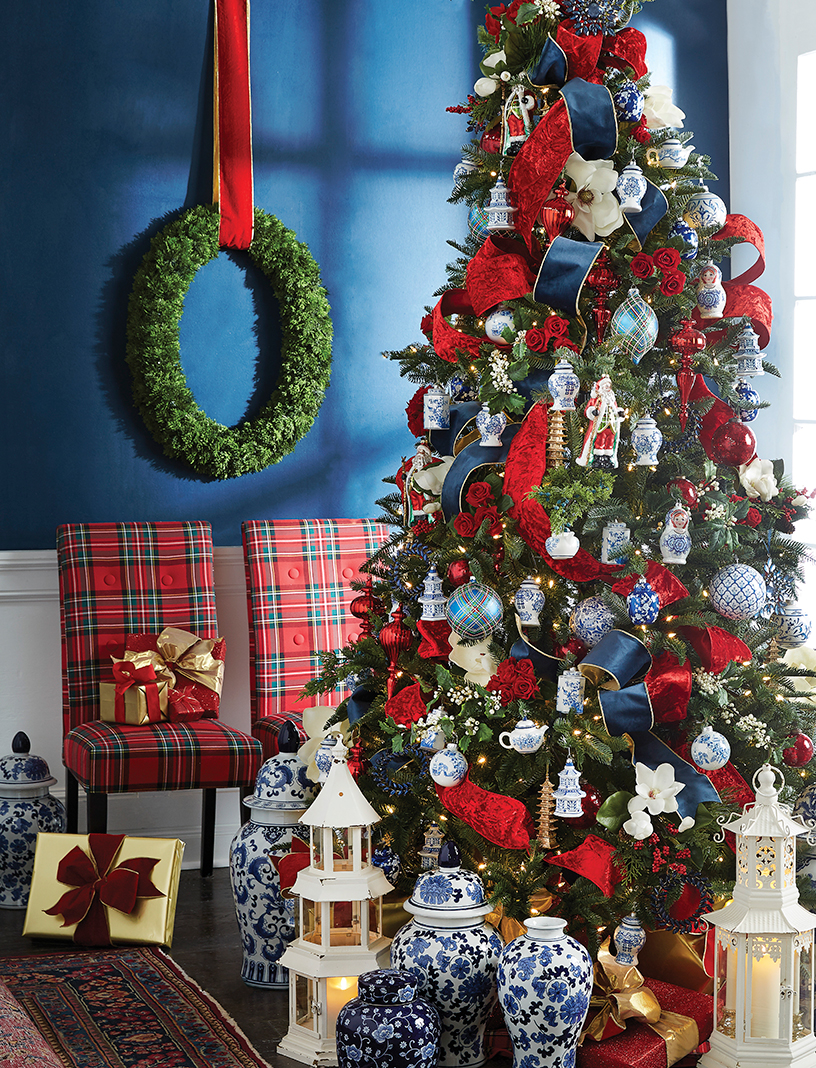 This Tis The Season Christmas tree idea is an elegant and truly beautiful tree! The color palette is dark blue, bright red, white, and gold! It's unique color scheme is sure to stun your guests! We kept it clean and simple with a white berry spray and a red berry spray! The ornaments used in this theme are pretty red finials, blue plaid finials, stunning delft decorated ornaments, teapots, and tea cups! A double sided gold and blue velvet ribbon is sure to turn some heads! Especially when paired with the bright red velvet ribbon! Unique features like to oblong oval shaped cedar wreath and the red glittered garland that drapes on the edges of the tree make it a total show stopper! This theme is different and unique and will be a trendy hit this holiday season!
Click HERE to shop Tis The Season!

Can't decide on your favorite Christmas tree idea for 2019? Don't worry you can see all of our Christmas tree ideas by clicking Shop All Christmas Tree Ideas HERE