Christmas Tree Decoration Ideas For 2021
We have spent hours and hours working hard to curate the most perfect Christmas Tree Decorating Ideas perfect for YOUR style! From fun and funky, eclectic and colorful, regal and elegant, traditional and classic, and woodsy!
Chalet: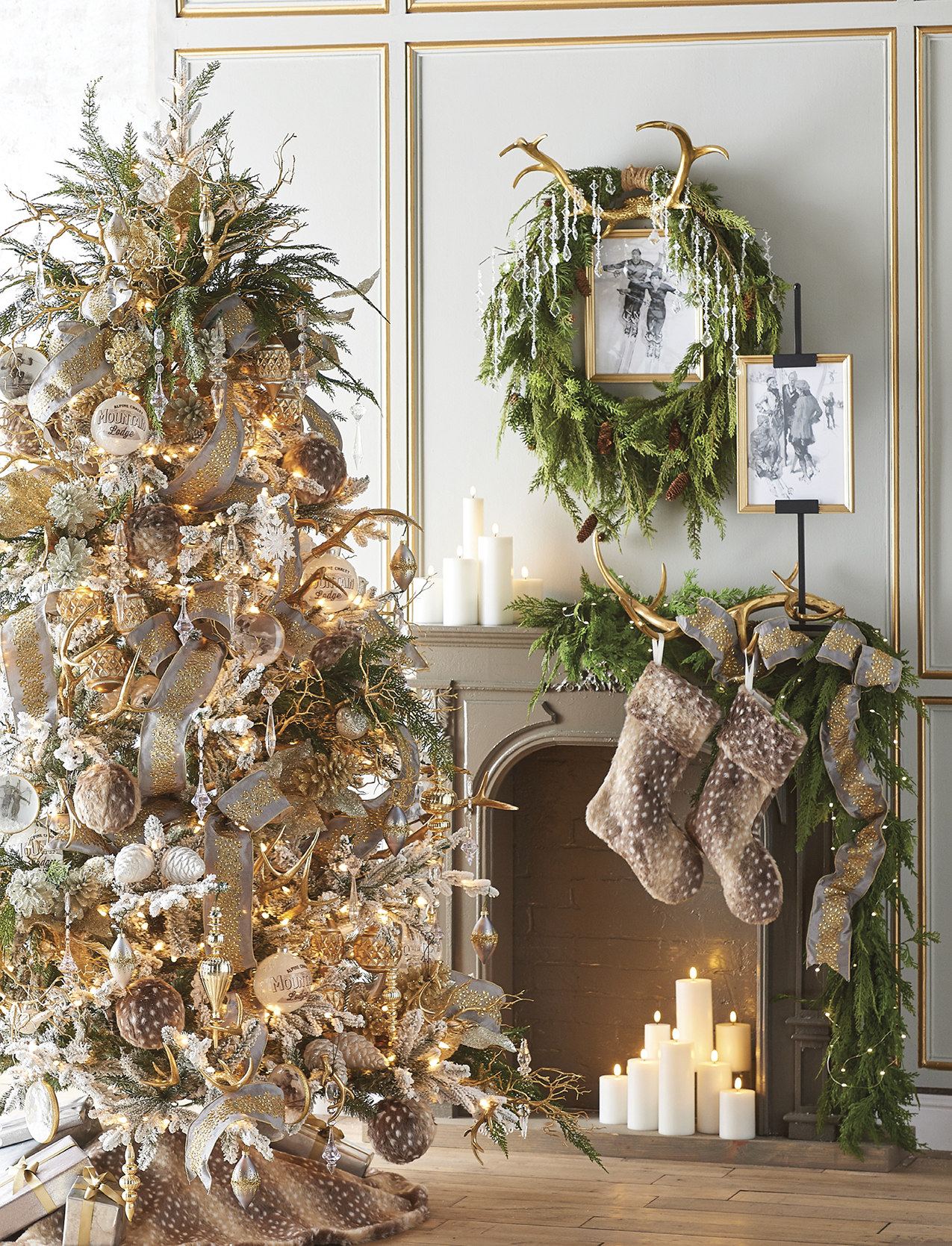 Add a touch of rustic elegance to your home this holiday season with our gorgeous Raz Imports Chalet tree theme! It is full of sparkling silver and gold and accented with soft browns! This rustic elegant Christmas Tree combines the wilderness with a bit of glam! Adorn your tree with pinecone ornaments, shining finials, adorable ball and adorable ball ornaments! We have chosen a stunning silver ribbon with golden embroidery and stones! Give your Christmas tree dimension with an array of different picks! We chose golden antlers, wispy cedar branches, golden branches, and snowy branches! This Christmas Tree Idea 2021 is sure to give you that elegant mountain home feel!
Click HERE to shop Chalet Tree Theme!
Christmas Eve: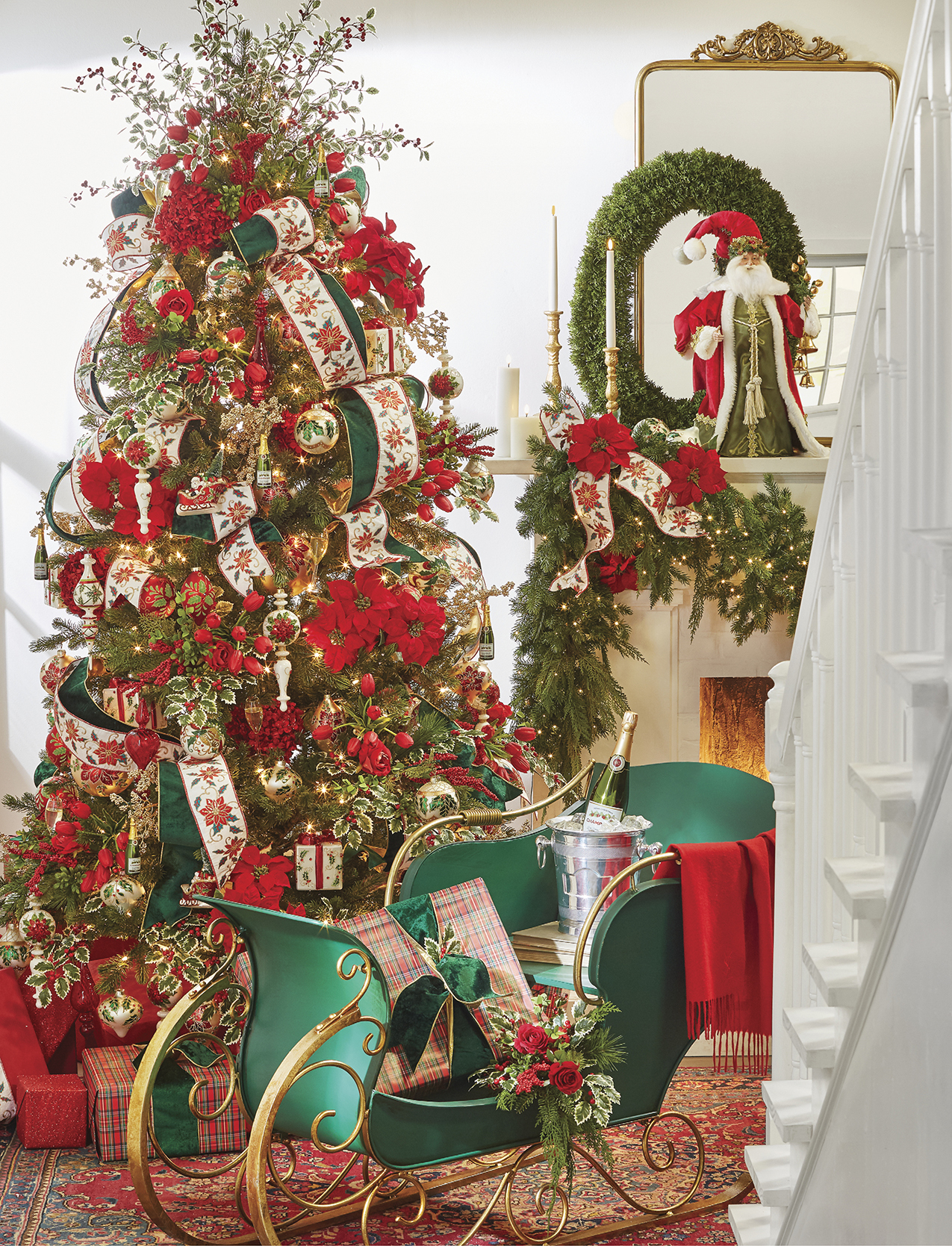 Bring in a totally traditional feel with this Christmas tree idea for 2021! This Raz Imports Christmas Eve theme is chalk full of gorgeous green, red, gold, and ivory and bursting with traditional décor! We have added stunning finial and ball ornaments that have glittering holly and poinsettia designs, and unique ornaments in the shapes of gift boxes and champagne bottles! The ribbon paired with this Christmas Tree Theme 2021 feature rich emerald green velvet trimmed with golden thread overlapped with an ivory ribbon dotted with red poinsettia Christmas tree decorations and holly leaves trimmed in red thread! To give the tree a little oomf, we've added red berry branches, cute little holly leaf branches, bundles of bright red tulips, and clusters of gorgeous red poinsettias! This is a great Christmas tree theme for 2021 to really make your guests ooh and ah at your Christmas party!
Click HERE to shop Christmas Eve Tree Theme!
Christmastime In The Village: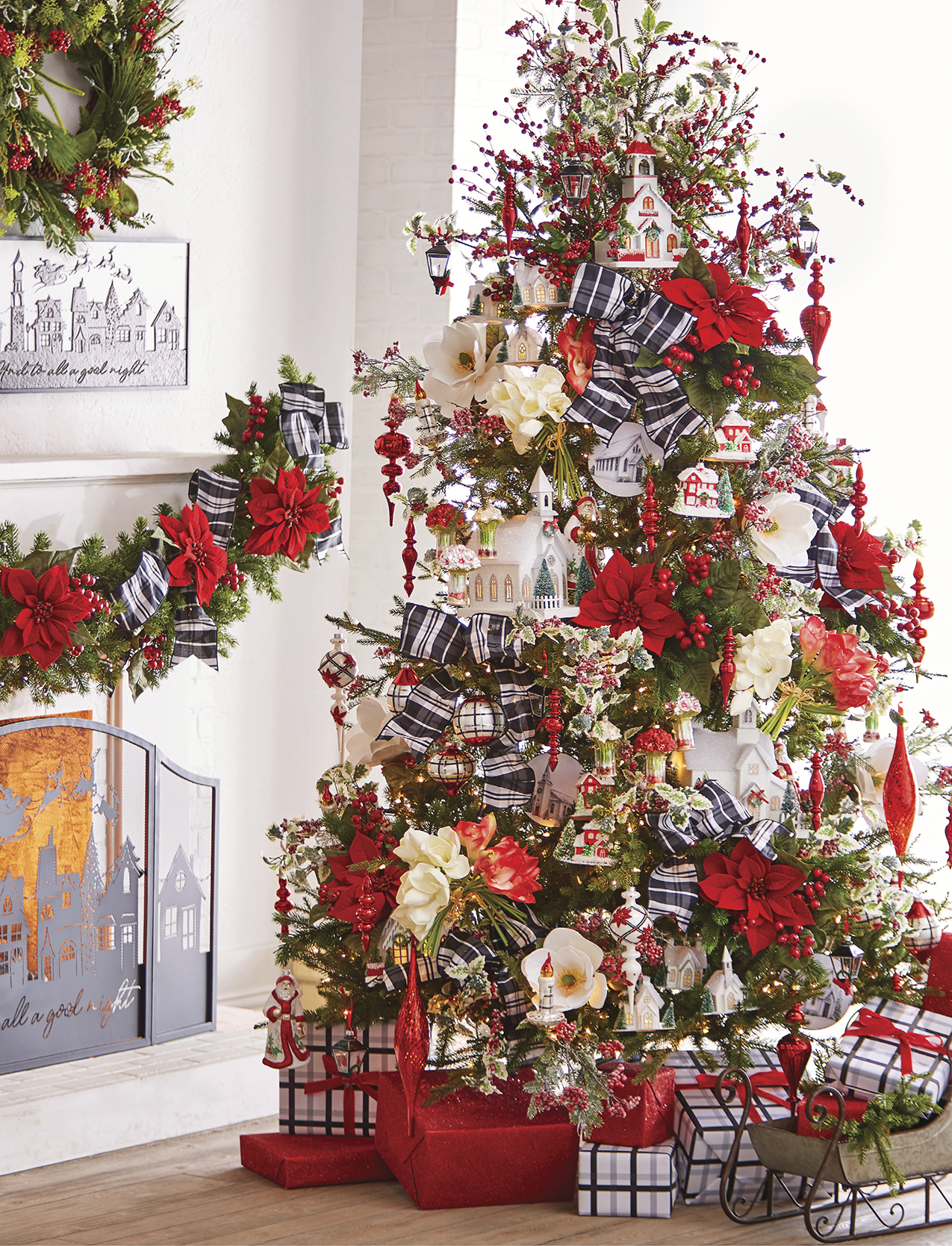 Our Raz Imports Christmastime In The Village Tree Idea for 2021 is a cozy and beautiful tree full of stunning Christmas Tree Decorations! It mixes red with black and white to curate a gorgeous Christmas Tree Theme for 2021! This tree is filled with stunning finials in bold reds and white with plaid and poinsettia designs, small house ornaments, Santa's, lanterns, clip on candle ornaments, and bundles of flowers! We chose a bold black and white plaid ribbon to wind throughout the tree from top to bottom! To really take this over the top, we added in large bright red poinsettias, lush white magnolia flowers, bundles of realistic looking flowers, red berries and holly leaves! The black and white Christmas decorations are sure to be a hit! This Christmas tree Theme for 2021 is sure to make everyone get out their song books and start caroling!
Click HERE to shop Christmastime In The Village Tree Theme!
Cocktails At The Kringles: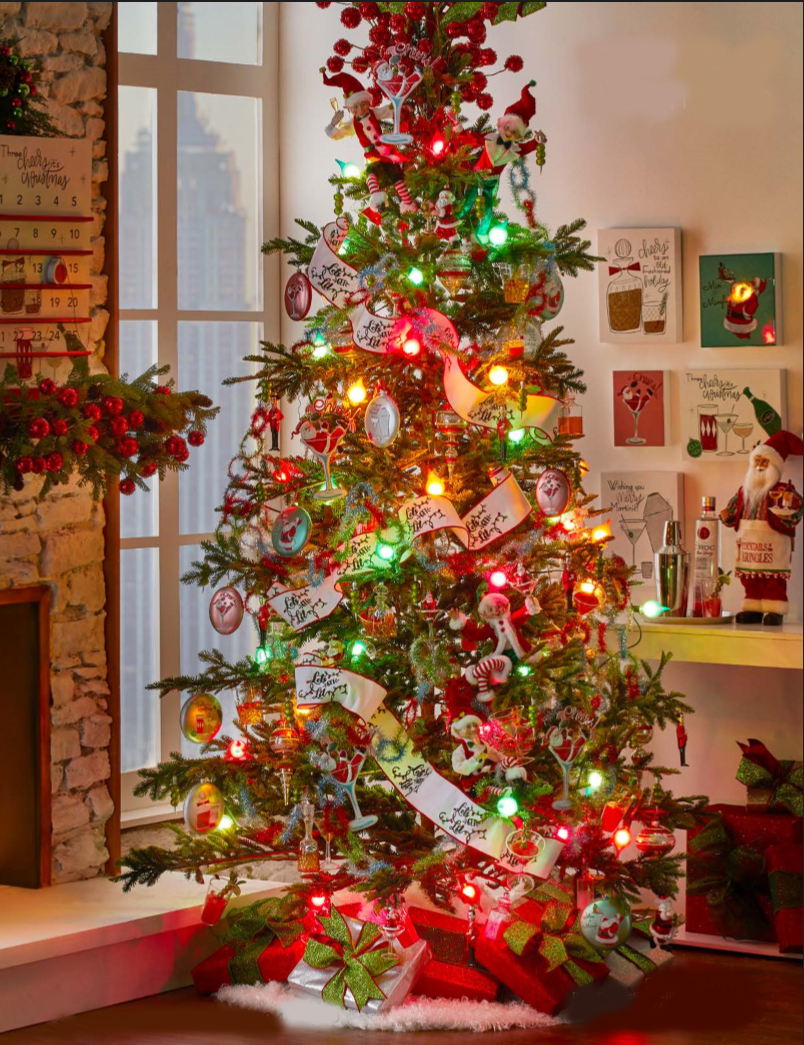 Clink! Cheers! Our Raz Imports Cocktails At The Kringles Christmas Tree Theme for 2021 is vintage mid century modern meets dinner party! It features a Christmas tree wrapped with bold multicolor Kismit bulbs dotted with different color finial ornaments, disc ornaments with tiny images of different types of drinks, realistic looking drink glasses and bottles, and elves holding martini glasses and olives! The ribbon wrapping around the tree is a white ribbon with a cute "Let's Get Lit" embroidered on with multicolor lights! To Give the tree a little more fun elements, we added vintage Christmas decorations from the 1960s multicolor tinsel garland and fun tinsel ball picks at the top! This Christmas Tree Idea for 2021 is perfect for a fun get together or to create a mini version for your dining area!
Click HERE to shop Cocktails At The Kringles Tree Theme!
Country Kitchmas: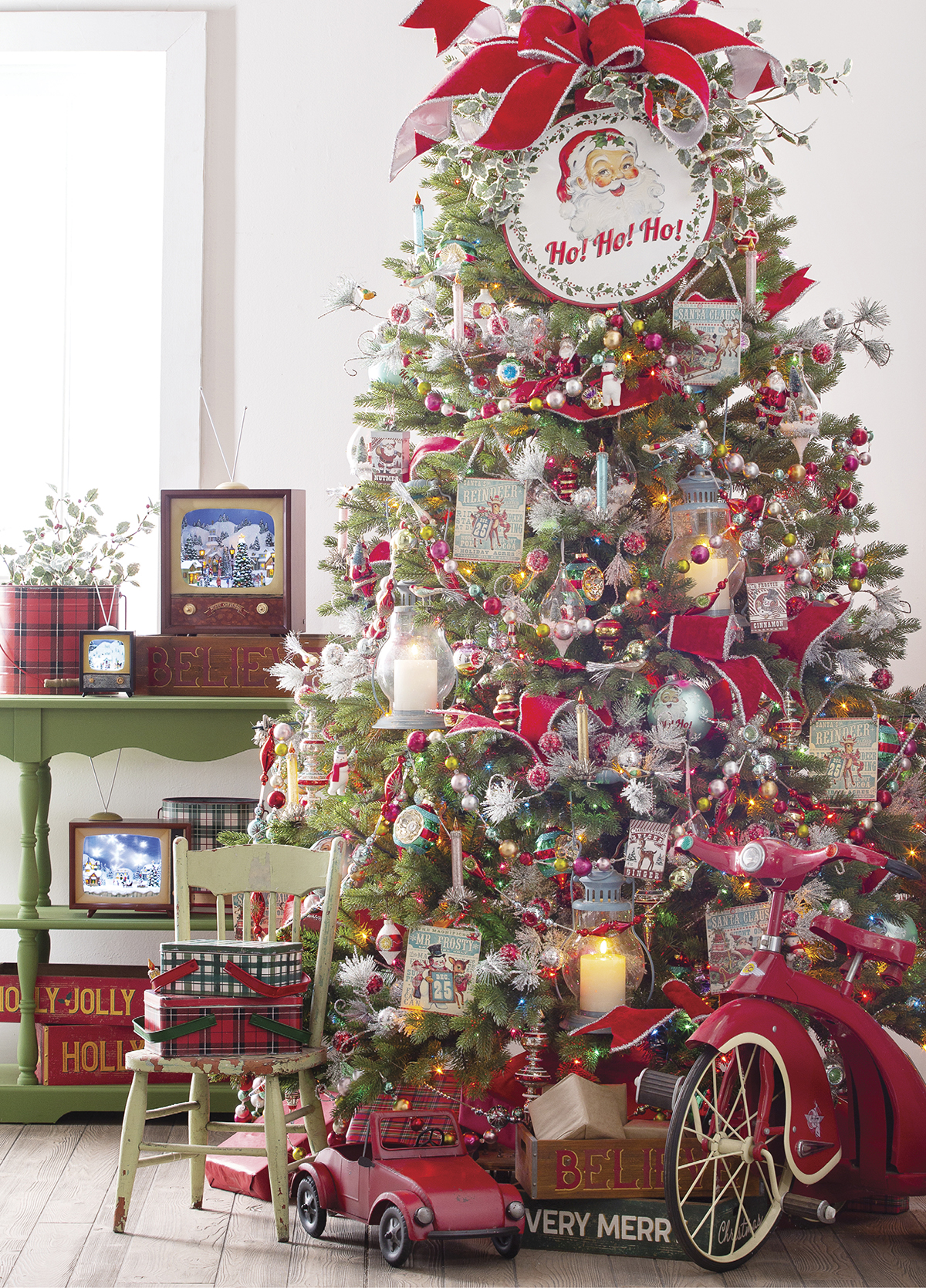 Take a walk into yesteryear with this Raz Imports Country Kitchmas Christmas Tree Theme for 2021! It features tons of bright and bold colors accented with sparkling silver! For tree decorations, we added beautiful finials of all different colors, clip on candle ornaments, and ornaments with vintage Christmas card images of snowmen, Santa, and reindeer! For ribbon we wrapped this tree in a bold red trimmed with shining silver tinsel! To accent the ribbon, we added a multicolor ball garland that really takes the tree over the top! To give the Christmas tree a little dimension, holly leaf picks and silver tinsel sprays dot the tree from top to bottom! This is full of kitsch Christmas decorations and it makes a great homage to vintage Christmas décor with a little modern twist!
Click HERE to shop Country Kitchmas Tree Theme!
Dear Santa: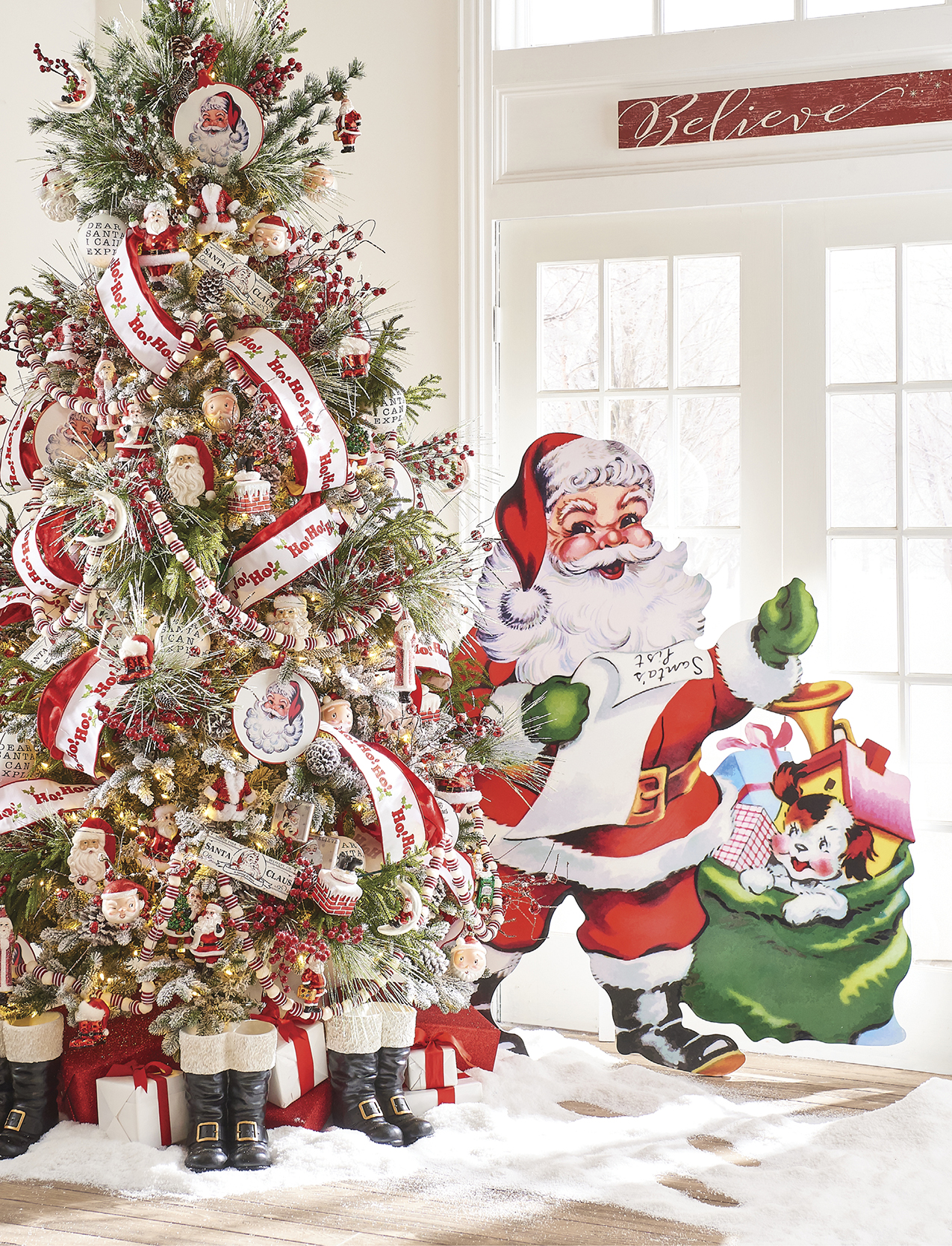 Dear Santa, this year we want a perfect Raz Imports Dear Santa Christmas Tree Idea for 2021! This tree is a cozy fun loving tree! It is full of bright red and whites with a natural essence! We used ornaments that consist of different and fun types of Santa faces, Santa boots, Santa suit, Chimney, and ball ornaments! All of those ornaments look perfect paired with shiny red ribbon and a white ribbon with Ho Ho Ho written on it! A pretty wooden natural and red beaded and disc garland wraps around the tree to really pull everything together! To keep up with the natural elements, we've added different pine sprays, cedar spray, holly and red berry sprays! Chalk full of Santa Christmas Decorations, everyone will love this one!
Click HERE to shop Dear Santa Tree Theme!
Holiday Homestead: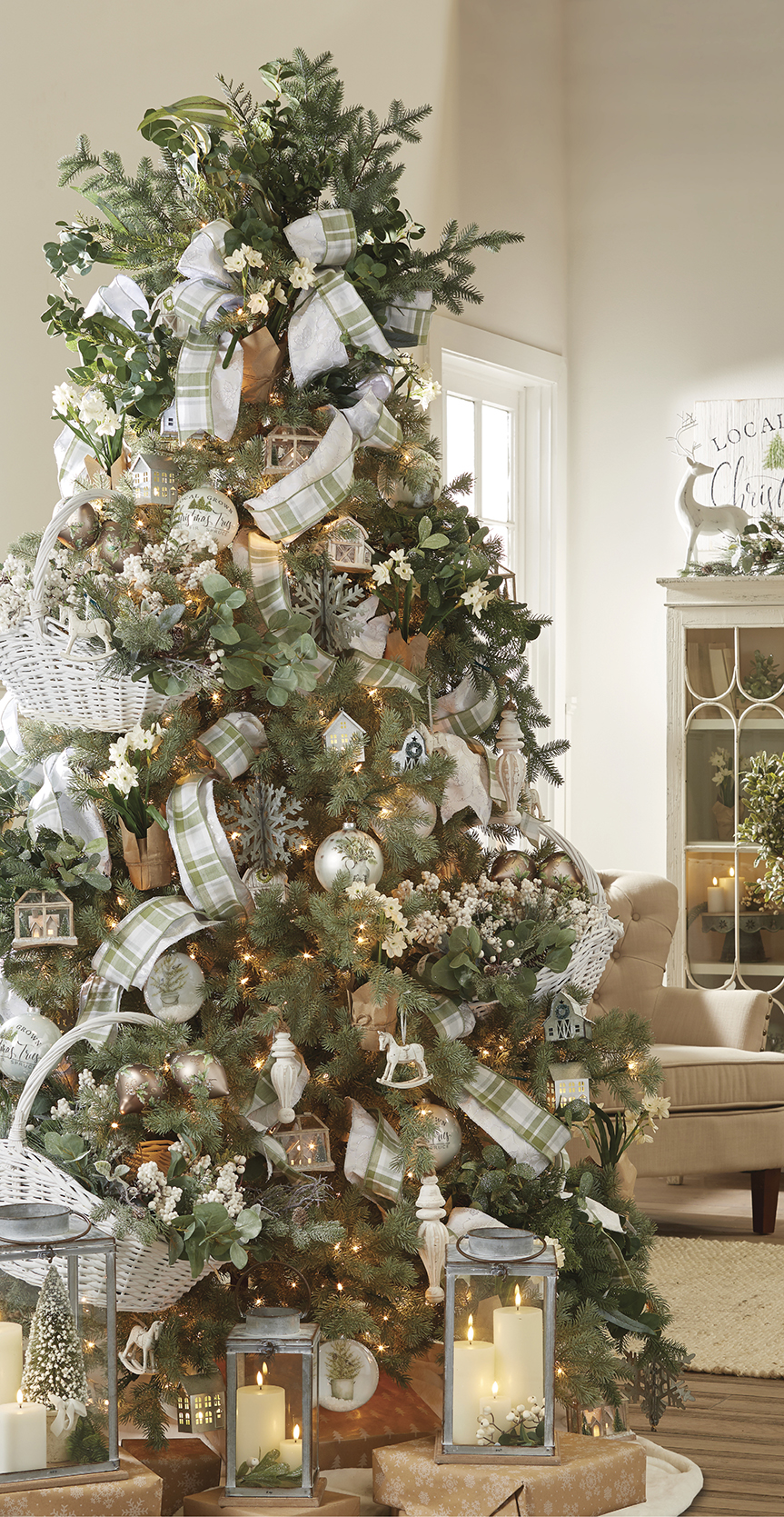 This Raz Imports Holiday Homestead Christmas tree theme for 2021 is a soft and elegant tree full of farmhouse Christmas decor and charm! It is full of sage green colors paired with soft silvery pearl to create a wonderful Christmas tree! We used different shaped finials, ball ornaments, metal accents, and cute houses! For ribbon we picked a soft sage green and white plaid ribbon overlapped on a white holly embroidered ribbon! For picks and sprays we have an array of different greenery including eucalyptus leaves, pine, and different white flowers! This Christmas tree idea for 2021 gives a unique cottage-y feel!
Click HERE to shop Holiday Homestead Tree Theme!
Holiday Spice 1 (Heritage):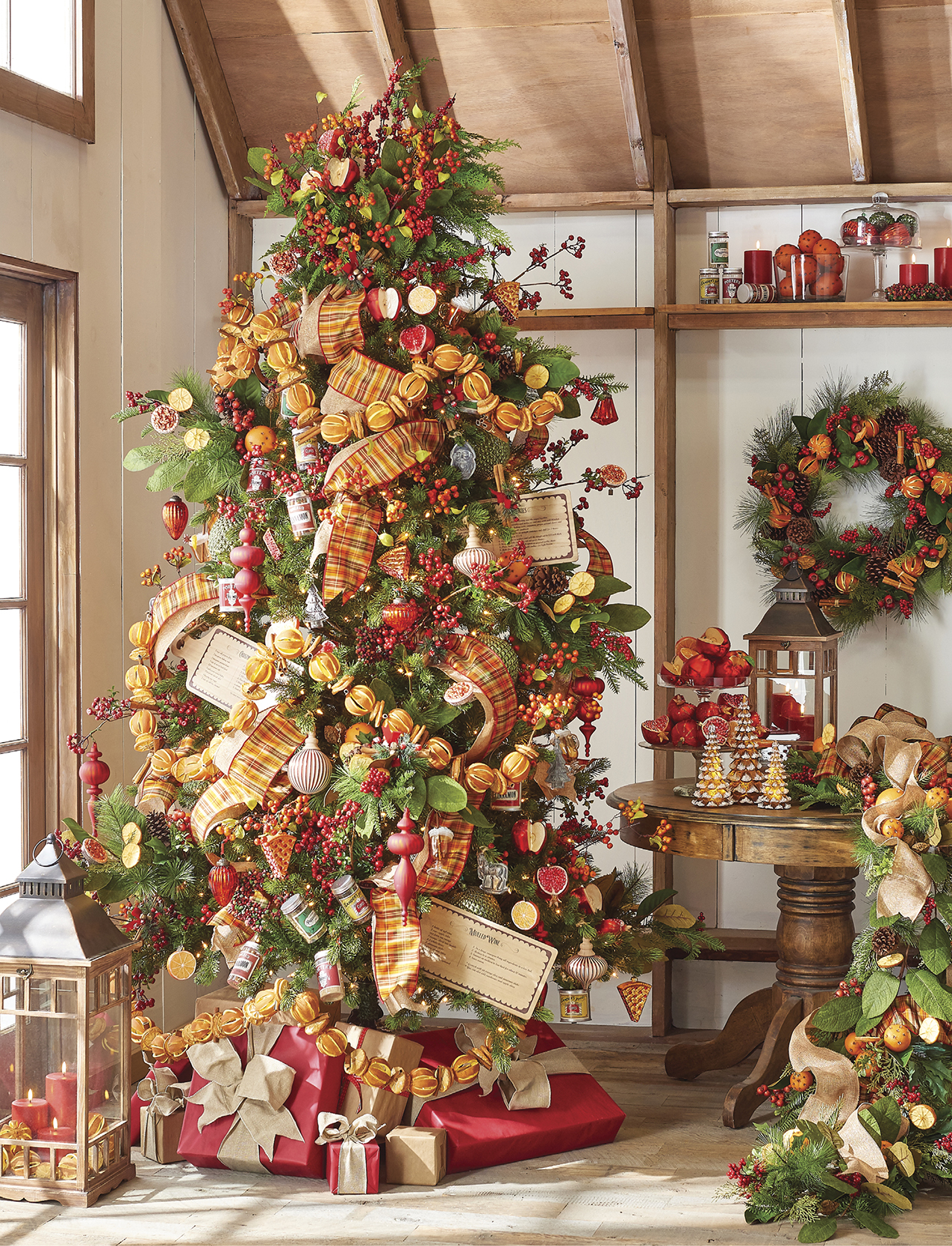 Add a little bit of…..SPICE! Celebrate a festive Christmas Tree Idea for 2021 with this beautiful Raz Imports Holiday Spice 1 theme! It is bursting with rich and bright colors that are sure to make a statement! Its unique colors include bright orange, dark red, and cinnamon brown! We have tons of different types of finials with different finishes like velvet matte, a shiny mercury glass, fruits, chocolate molds, and more! The Ribbon woven into this tree is a fun plaid full of orange, brown, red and yellow! It is overlapped on top of a light brown ribbon! We have also added a unique garland of dried oranges with little cinnamon sticks to really go with the fruit Christmas tree decorations and elements of this tree! To fluff up the tree a little more, we have added in thick greenery sprays of magnolia leaves, red berries, cedar, and pine mixed in with colorful fruits! This is a great Christmas Tree Theme to put out early for Fall because of the rich colors!
Click HERE to shop Holiday Spice 1 Tree Theme!
Holiday Spice 2 (Gingerbread):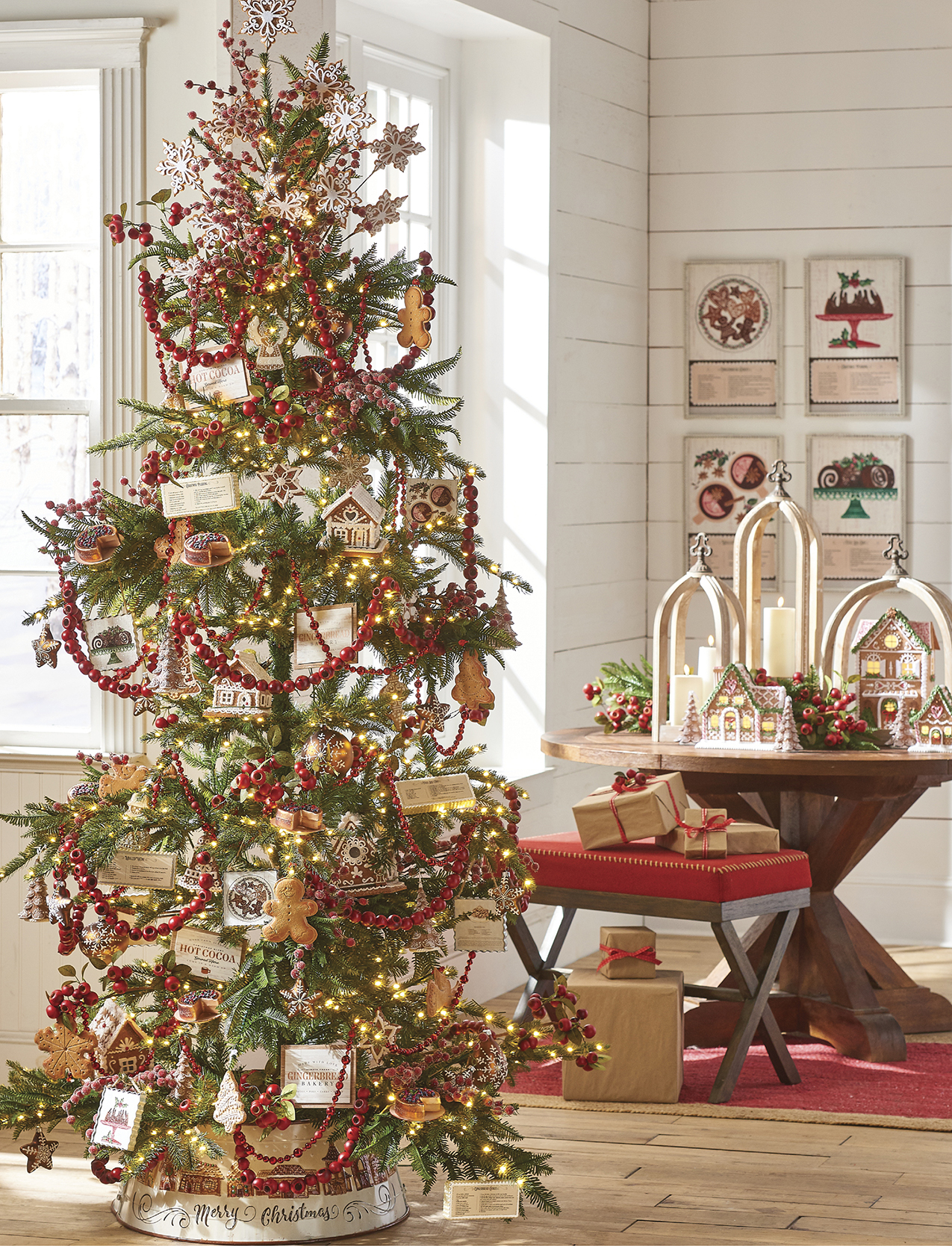 Set the mood for baking lots of Christmas cookies and goodies with this Raz Imports Holiday Spice 2 Christmas tree theme for 2021! It is full of gingerbread cookies in different shapes, gingerbread houses, cakes, and tiny recipe cards! Swagged across the branches of the tree sits red crabapple and red berry garlands! To finish off the wonderful look of this tree we added cookie picks, and frosted berry sprays! This is a great gingerbread Christmas tree theme for a kitchen tree or dining room!
Click HERE to shop Holiday Spice 2 Tree Theme!
Oh What Fun: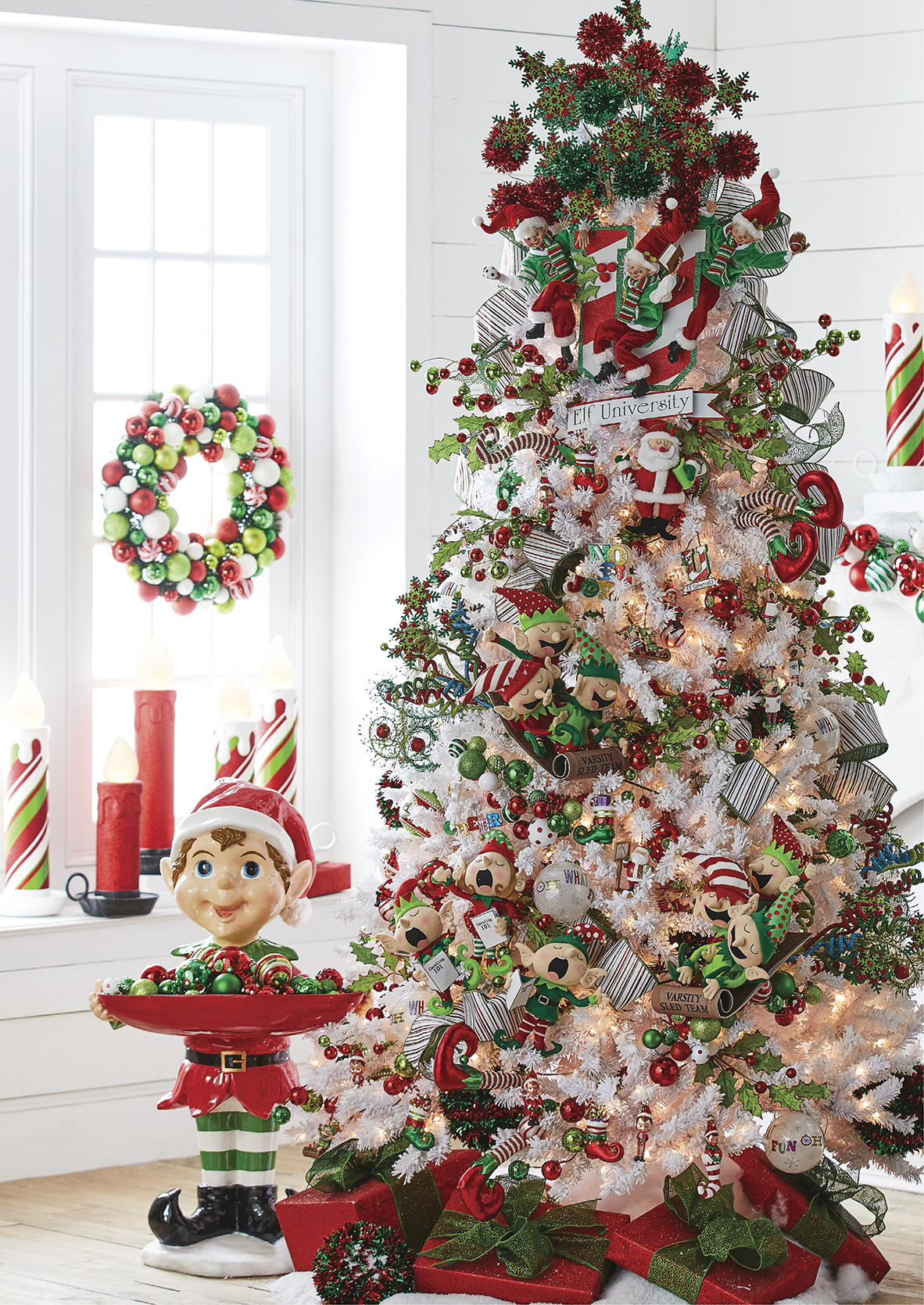 Have a grand ole time this holiday season with this totally fun Raz Imports Oh What Fun Christmas Tree Theme for 2021! Based on a white tree, these bright green, blue, and reds really POP! The ornaments on this tree are full of bright colors with different patterns like polka dots, and stripes! Tiny elves, ball ornaments, elf shoes, and Santa's dot the tree from top to bottom! The ribbon tied throughout the tree has a beautiful striped pattern! The shining stars on this tree theme are the funky and uniquely shaped picks and sprays of sparkling multicolored tinsel and glitter! This is a nice elf Christmas tree to entertain the kiddos or to really make a statement!
Click HERE to shop Oh What Fun Tree Theme!
Peppermint Parlor 1 (Elegant):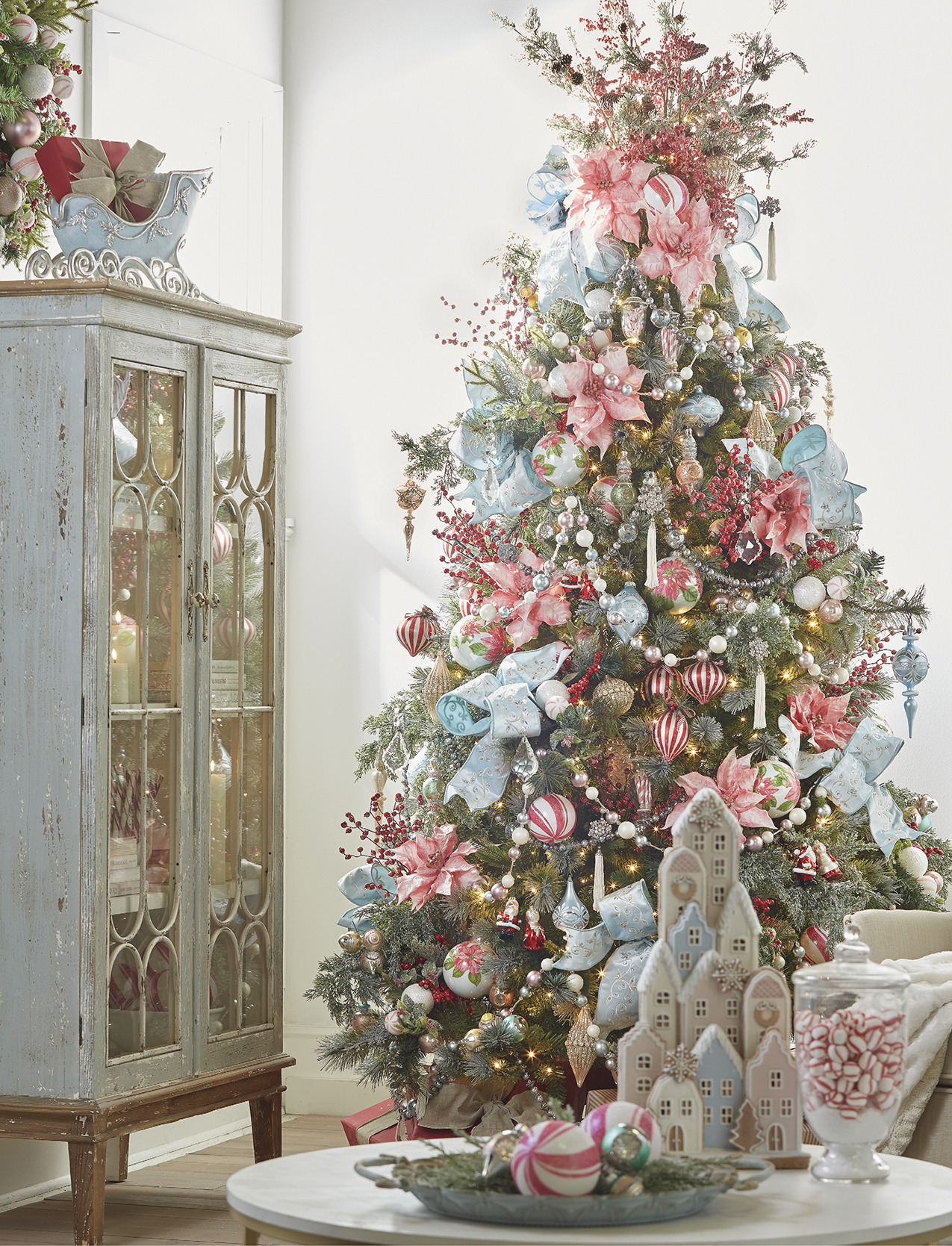 Imagine entering a Christmas party and seeing this stunning Raz Imports Peppermint Parlor 1 Christmas Tree Theme for 2021 in the center of a foyer or in the corner of a dining area! Our Peppermint Parlor theme from Raz Imports is dripping with elegance and class from top to bottom! The ornaments on the tree feature red and white striped finials, light blue finials, golden finials, crystals, tassels, and poinsettias! A beautiful light blue ribbon with silver embroidery is popped throughout the tree with light pink and greenery picks to create a wonderful effect. This tree is finished off with an elegant pearlescent garland and plenty of candy cane Cristmas decorations!
Click HERE to shop Peppermint Parlor 1 Tree Theme!
Peppermint Parlor 2 (Fun):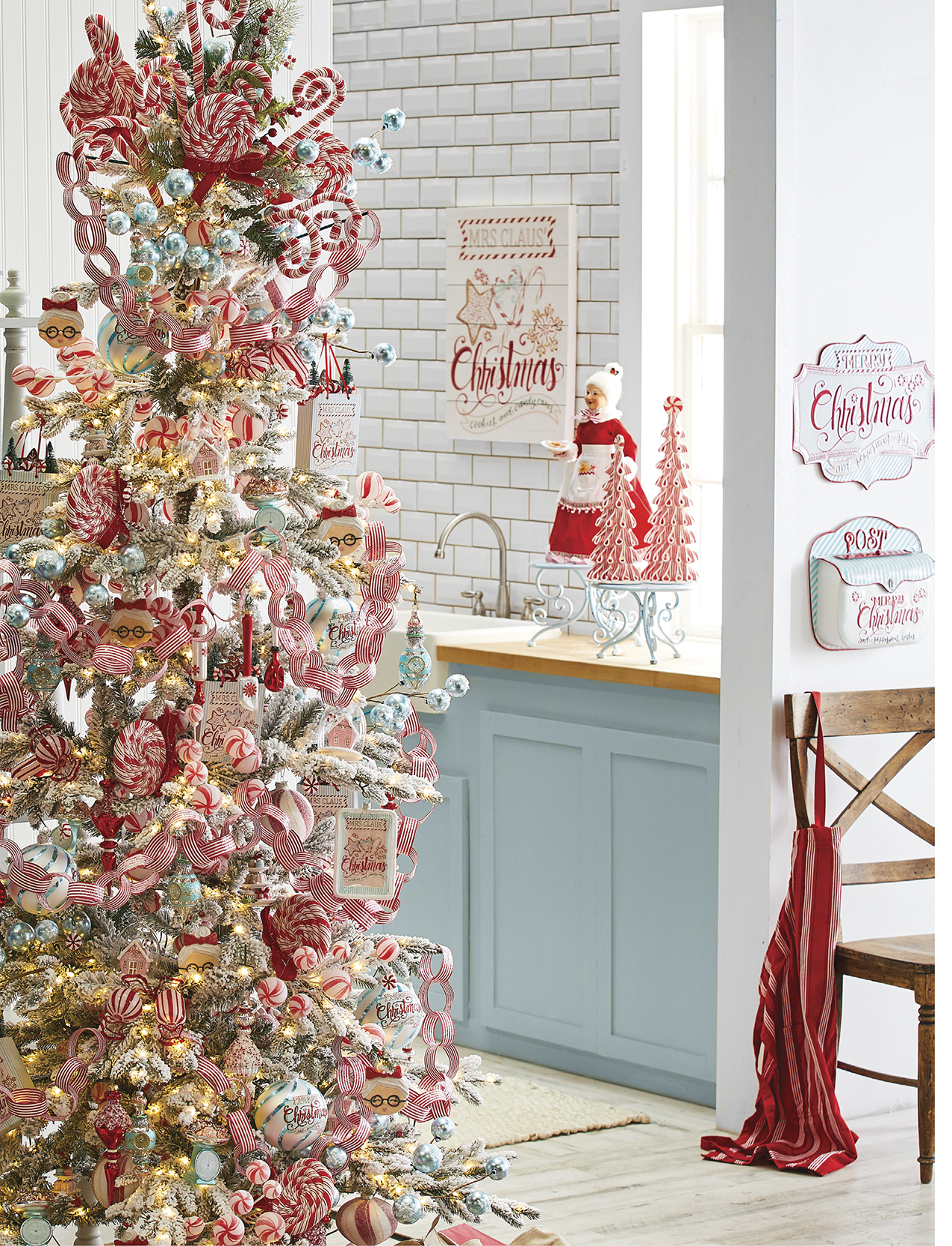 Get out all your baking utensils, let's make some goodies! We have put together a fun and beautiful Raz Peppermint Parlor 2 Christmas Tree Theme for 2021! It features a lightly locked Christmas tree that is covered with red and white with touches of light blue! Full of Mrs. Claus cookie faces, recipe cards, and different shaped peppermints! We have also mixed in shiny red finials, red candles, and light blue finials! It is filled with different shapes and sizes of peppermint Christmas decor and picks with swirls and twists, light blue ball picks, and bits of greenery. Finished off with a fun garland made of loops of red and white stripes! This would make a beautiful mini kitchen tree!
Click HERE to shop Peppermint Parlor 2 Tree Theme!
Snowed In: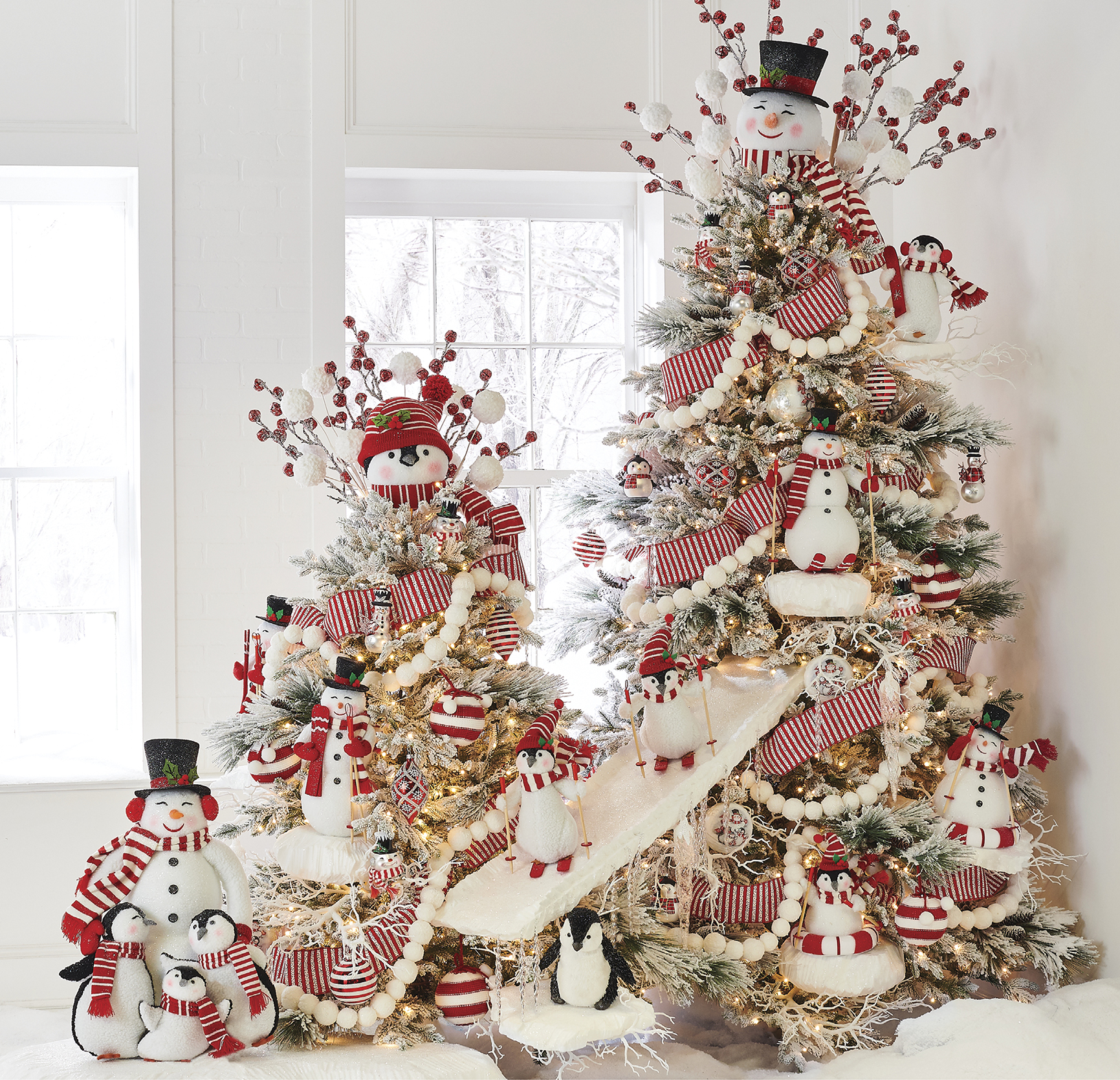 Grab your sleds and warm clothes! This fun Raz Imports Snowed In Christmas Tree Theme for 2021 is a super fun one! We have made the perfect tree for snow lovers! It features red and white finials and ball ornaments, tiny glass snowmen, and top hats! The ribbon is made of red and white stripes with teeny tiny red dots in the white parts snaked through the tree! To give this tree some dimension and natural elements, the picks and sprays are made of white snowballs and red jingle bells attached to brown branches and icy white branches! A fun garland made of white snowballs wraps around the edge of the tree, makes us want to go throw some snowballs outside! It is such a cute tree with tons of penguin Christmas decorations and plenty of snowy fun!
Click HERE to shop Snowed In Tree Theme!
To Grandmother's House We Go: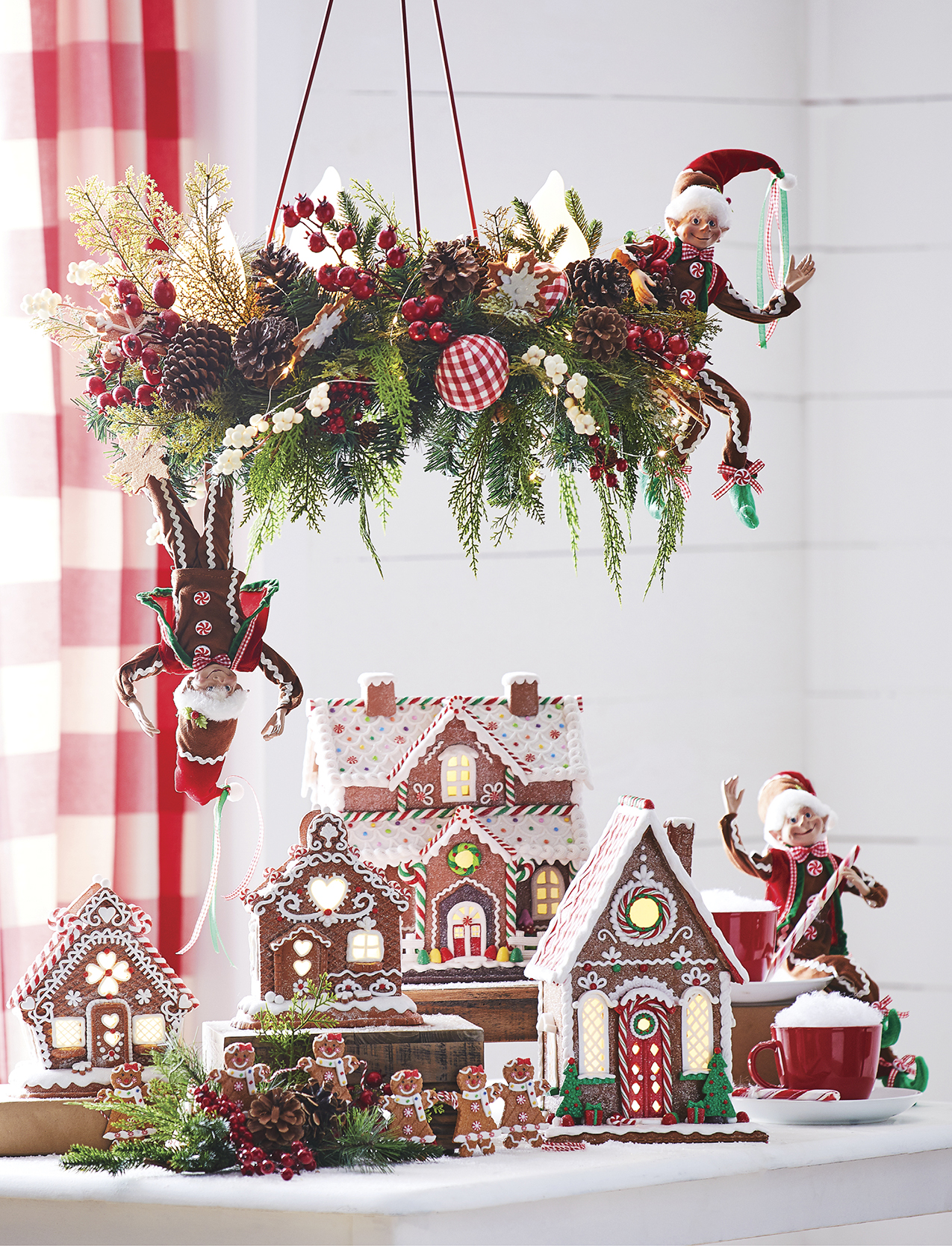 Over the meadow and through the woods! This Raz Imports To Grandmother's House We Go Christmas Tree Theme for 2021 is such a cozy and warm one full of country Christmas tree decor! It is full of rich red and light beige, with hints of brown! The ornaments favor handmade ornaments like Christmas cookies, beaded snowflakes, and plaid cloth ball ornaments mixed in with glass balls and finials! Red, white, blue, and yellow plaid ribbon is winded throughout the tree and berry popcorn garland is draped on the edge of the branches- just like we used to make as kids! Red berry picks and red and white plaid poinsettias really finish off the cozy look!
Click HERE to shop To Grandmother's House We Go Tree Theme!
We Three Kings: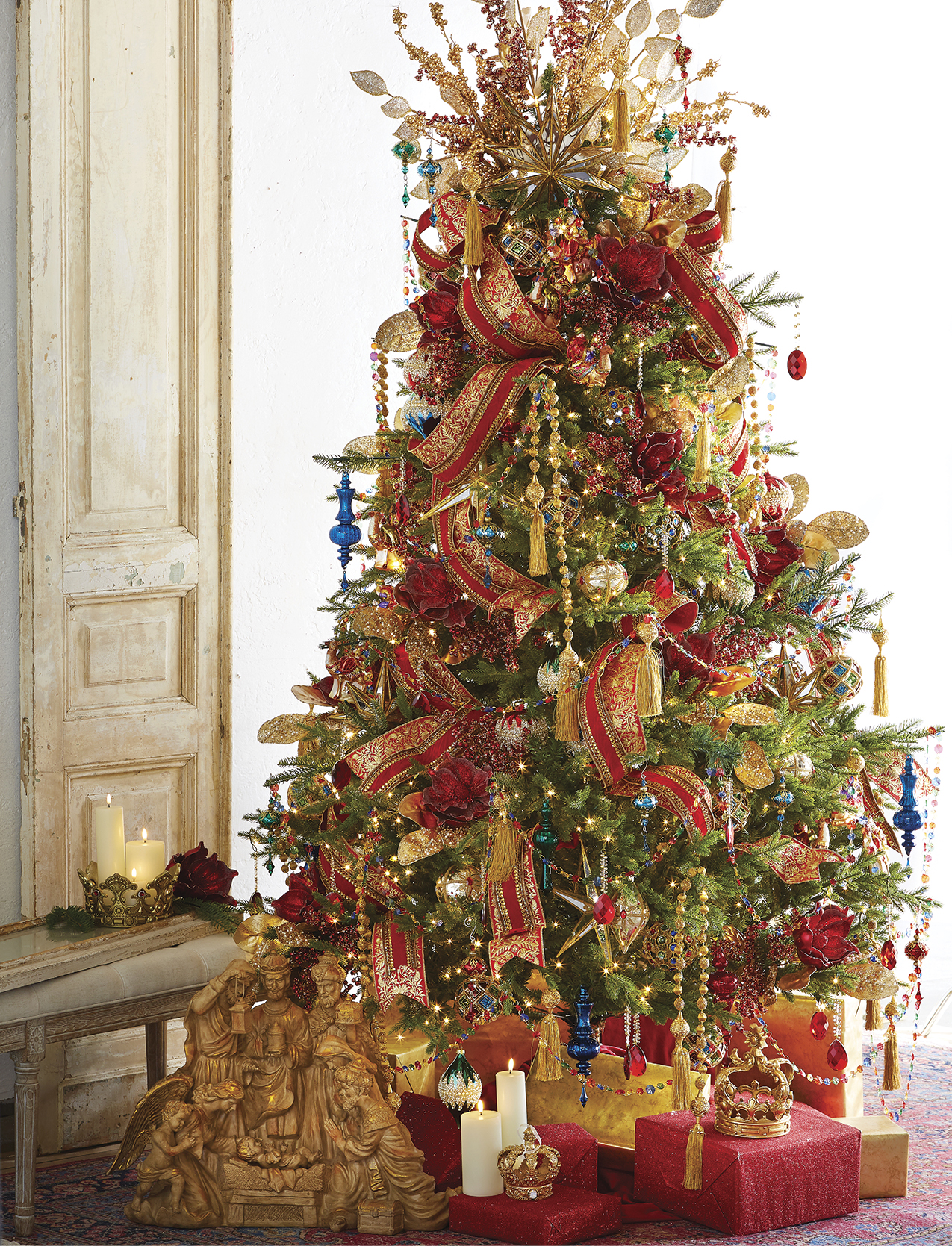 Celebrate Christmas 2021 in an extravagant way with this stunning Raz Imports We Three Kings Christmas Tree Theme for 2021! It is dripping in lush red, blue, green, shining gold, and jewel tone Christmas decorations! The ornaments adorning this tree are finials of different shapes and sizes, dripping jewel ornaments, mirrored stars, golden tassel garlands, multifaceted ball ornaments, and golden crowns! Elegant golden magnolia leaves and decadent red magnolia flowers are popped throughout the tree along with gold berries and white glittered leaves! To really push this tree to a whole new level of stunning, the ribbon is a thick red and gold scroll pattern embroidered ribbon underneath a thinner red and gold ribbon made with velvet and thick embroidered edges. To finish off the tree, a thin garland made of multicolored jewels dances on the edges on the trees branches. This is a tree fit for a King!
Click HERE to shop We Three Kings Tree Theme!
Yuletide Birds: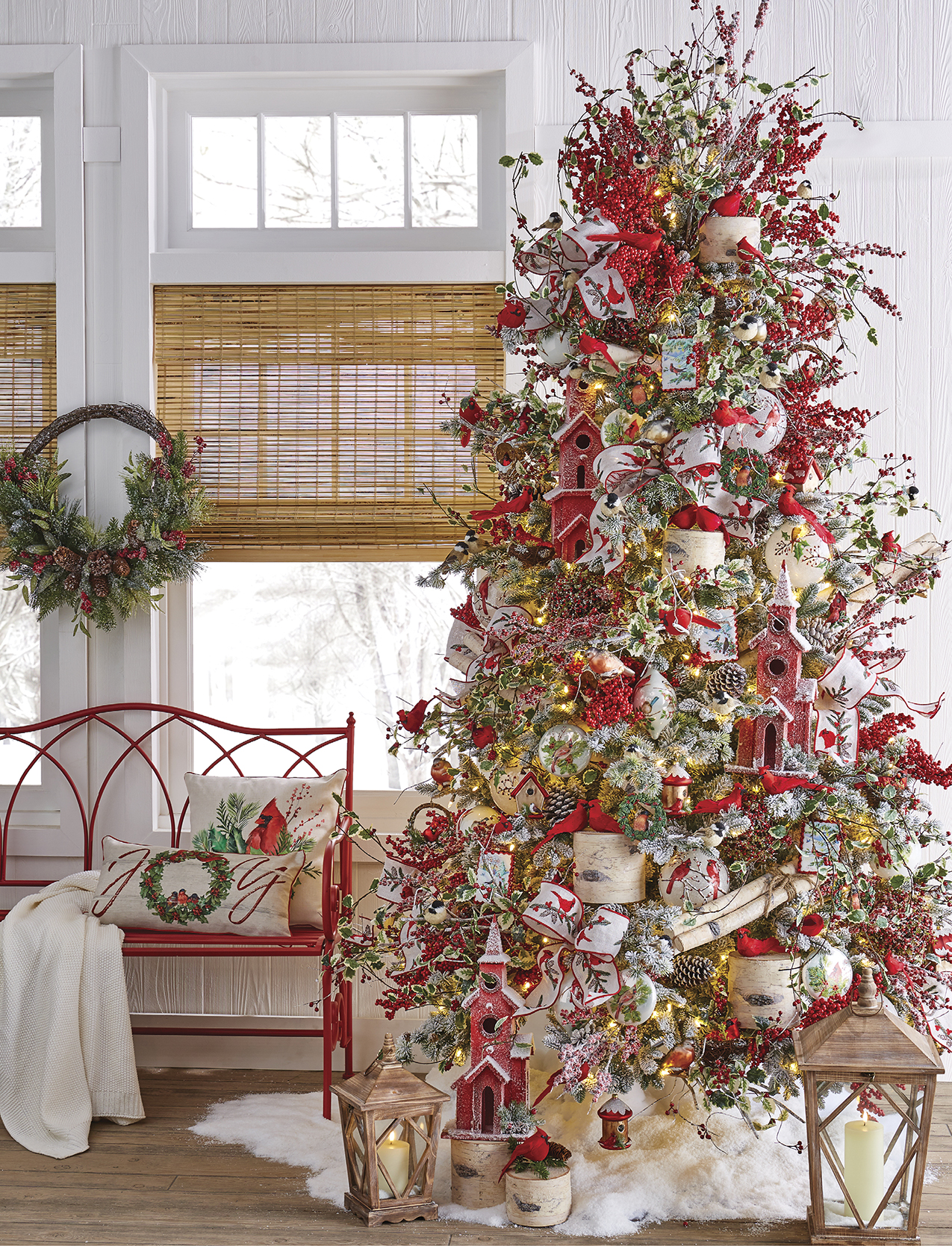 Red birds are a staple for the holidays! We have curated a gorgeous red bird Raz Imports Yuletide Birds Christmas Tree Theme for 2021! This tree looks as if you brought it in from outside and added a few decorative touches to it! The ornaments are tiny red birds, glass birdhouses, disc ornaments and balls ornaments with cardinals, and more! To really push the woodsy elements, red berry picks, holly leaf branches, and bundles of logs poke out of the tree. The ribbon is a beautiful red and white with cardinals embroidered on a branch! This is a bright and beautiful cardinal Christmas tree that is sure to look amazing in your living room!
Click HERE to shop Yuletide Birds Tree Theme!
Recent Posts
Christmas Tree Decoration Ideas For 2021 We have spent hours and hours working hard to curat …

Halfway to Halloween: What Is It and Idea's to Celebrate This Fun Holiday!What is Halfway to Hallowe …

Department 56 Harry Potter Village This magical story started on Number 4, Privett Drive. At t …